Getting to Beijing
You can get to Beijing by long-distance bus, high speed rail, overnight sleeper trains, and plane.
Beijing Capital International Airport
Click here to see the International Arrival Process. Click here to see the Domestic Arrival Process. You can choose metro (subway), bus, taxi to leave the airport and reach the urban area or your hotel.
Aiport Express: You can take the Airport Express line of the Beijing subway system from the airport to Sanyuanqiao Station where you can transfer to line 10 noting you need to buy another ticket to your final destination on that line. You can also continue on that same line to Dongzhimen Station and transfer to subway line 2 or line 13 and continue to your final destination after buying another ticket. The cost to get to  Sanyuanqiao or Dongzhimen on the Airport Express line is 25 RMB. Click here to know more about Beijing Metro.
Bus: If you want to take the bus, there are totally 10 Airport Lines to reach every part of Beijing.  The unified ticket price is 16 yuan RMB and the destination station include Fangzhuang, Xidan, Beijing Station, Gongzhufen, Zhongguancun, Olympic City, Xike Station, Shangdi, Yizhuang, Beijing South Station.
Taxi: It will take you about 75 minutes and 200 RMB to get to Xidan for example.
Long-distance Bus: If you want to see some attractions outside of Beijing, such as Tianjin, Tanggu, Qinghuangdao, Langfang, Baoding, Tangshan,  you can take a long-distance bus from the airport.
If you want to leave from Beijing Capital International  Airport to other city or country, click here to see the process.
If you need airline transfer in this airport, click here to see the process.
Train to Beijing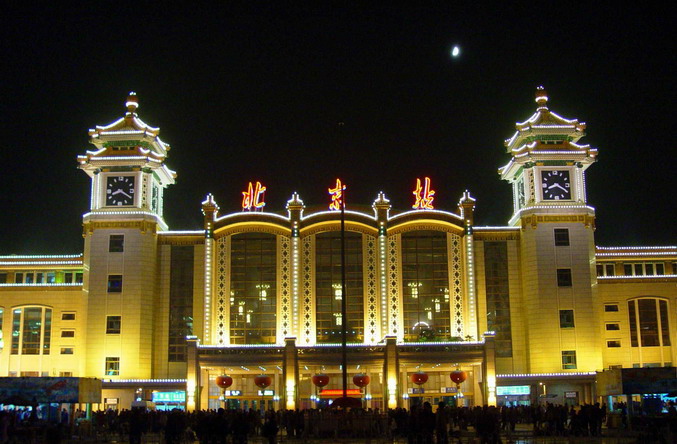 There are totally five railway stations in Beijing: Beijing Railway station, Beijing South Railway Station, Beijing East Railway Station, Beijing West Railway Station and Beijing North Railway Station (under redevelopment). Most trains arrive and depart via Beijing Station and Beijing West Station. Shanghai-Beijing high-speed rail is at the South Railway Station. See our page on Beijing Train Services.
City Transport
There are numerous ways to get around the city, myself I am a fan of the subway system, at the same time I try to avoid using any transport system with peak hours of 07:00 to 09:00 and 17:00 to 20:00.
Taxi
Taxis are everywhere, but do be wary of the rush hour in the morning and afternoon where it's difficult to get a taxi and also likely to strike traffic jams. More about taxis in Beijing here.
Flagfall
13 RMB which includes the first 3km (2mi)
Fare
Day: 2.3 RMB per km
Late-Night: 2.76 RMB per km
Waiting
4.6 RMB per 5 min. The same charge applies if stuck in traffic.
Return Empty Fee
an extra 3.45 RMB per km beyond 15km (9mi)
Beijing Subway (Metro)
The subway system covers most of the city and it is the recommended way to get around the city. There are 22 lines in total. The system is very affordable and easy to use. More about the subway system here.
Beijing Public Buses
Public buses are also very cheap although not as easy to use as the subway system and you are also likely to strike traffic jams. More about Public buses here.
Sightseeing Bus
There are several sightseeing bus lines, and tour buses that head out to the far away attractions such as the Great Wall. See more here.
Beijing Rickshaw
The best way to visit the charming Beijing Hutong is to hire a rickshaw. It will be a very relax and convenient, also the best way to taste the old history of Beijing. Click here to know more tour in Beijing Hutong.
Bicycling In Beijing
One of the best way to visit Beijing is bicycling, which is safe, convenient, economical and environmentally friendly. Click here to know more about it.
 Yikatong Card (Beijing Transport Smart Card)
It's a preloaded swipe card that you can use to pay for public buses, subway, trains, taxis, and even public bicycles.
It makes life simple as you do not need to fumble finding correct change, just swipe and go in (or get on) and swipe and go out (or get off).
You can buy the card at any service center located within the subway stations. There is a 20 RMB refundable deposit. A total deposit of 50 RMB should cover you for 2-3 days' stay and double that if you are staying the week. In the end, simply return the card and reclaim your deposit and any remaining funds.