Restaurants of Imperial Cuisine
Da Zhai Men(大宅门)
The dishes and snacks here are very famous. Besides, there will be traditional performances at night.
Price: 120-200 RMB per person
Location of Chaoyang Branch: 3 Building, Huixinbei Li, Chaoyang District
Location of Shouti Branch: 20A, Shouti Nan Lu, Haidian District
Location of Changping Branch: 23, Fuxue Lu, Changping District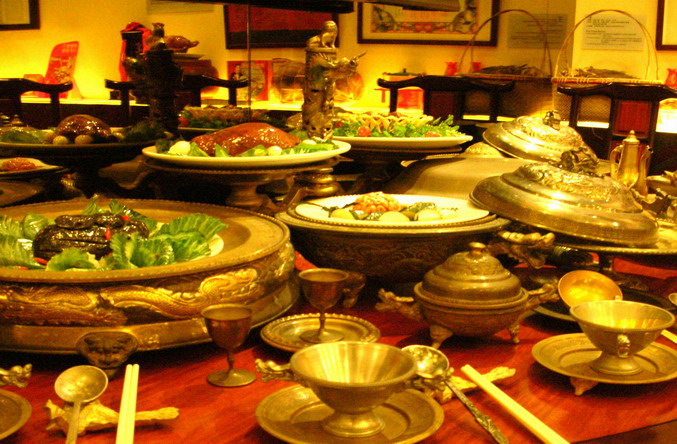 Li Jia Cai Restaurant(厉家菜)
If you are a real gourmand, you can't miss this restaurant hidden in Beijing Hutong. Located at Yangfang hutong , Li Jia Cai Restaurant is a very famous and special restaurant, being devoted to Imperial Court food.  There are many special things about this restaurant. First,  there are no employees in this restaurant. The Li family are owner and employees of the restaurant. Second, a guest has no right to order the dishes but must wait for whatever they serve on that day.  Third,  if you want to have a dinner here, you should make a reservation (at least two weeks ahead of time). Four, all flavorings are natural here. This restaurant has welcomed many celebrities including the former U.S. president Bill Clinton, Bill Gates, the former premier of Britain, John Major, and Chinese superstar Jackie Chan.  Besides, the owner Professor Li speaks English.
Address: No.11, Yangfang hutong, Denei Dajie,Xicheng District
Price: About 500 RMB per person
Yushan Restaurant
When eating in the restaurant, diners are served by waitresses in traditional imperial costumes, making you feel like in the Imperial Court.
Price: About 120 RMB per person
Hours: 16:30 – 19:30
Location: No.87, Tiantan Road, Chongwen District
Fangshan Restaurant(仿膳饭庄)
Do you know the famous Man-Han Court Dishes(满汉全席)? If you want to have a meal only the King can have in the past, then you must come to Fangshan Restaurant. Located in Beihai Park, Fangshan Restaurant is the most famous one offering the luxurious Imperial Court Cuisine. The restaurant was opened in 1925 by imperial chefs of the former Qing Dynasty (1644-1911) . Here is the best place to experience the life of the Chinese emperors in former days. Now, it serves nearly 800 kinds of Imperial Court Dishes.
Price: CNY200 – CNY300
Hours: 11:00-13:30 17:00-19:30
Address: No.1, Wenjin Jie, inside Beihai Park
Address: No.11, Yangfang hutong, Denei Dajie
Yan Yi Shan Zhai Restaurant
Comparing with other imperial restaurants, Yan Yi Shan Zhai Restaurant is a perfect combination of imperial cuisine and Sichuan hotpot.
Hours: 11:00 – 14:00 17:00 – 22:00
Location: No.9, Daqudeng Hutong, Backstreet of Art Gallery, Dongcheng District