Here's a self-guided itinerary suggestion for 3 days in Beijing visiting the classic historical sights, nighttime spots, shopping, and more.
Day 1
Get up early to watch the flag raising at Tiananmen Square. Afterword, visiting the Forbidden City and nearby Jingshan Park overlooking the Forbidden City. If there is energy remaining, you can go to Shichahai Scenic Area at dusk and feel the vibrant atmosphere of Houhai Bar area.
Tiananmen Square 天安门广场
The daily flag-raising ceremony time is the same as the sunrise time. After taking a photo of the Monument to the People's Heroes, wander and take a look at the nearby Great Hall of the People,  and the Chairman Mao Memorial Hall.
Time: 0.5-1 hour is recommended
Opening hours: Check website for flag raising times
Forbidden City 故宫博物院
Once home to China's ancient emperors. A large-scale royal ancient architectural complex with a wide range of precious cultural relics. It is advisable to do some homework in advance before the visit, see this Forbidden City Guide. You can also rent an audio guide.
Time:  Suggested 0.5-1 day
Opening hours: Peak season (April 1st – October 31st) 8:30-17:30, The off-season (November 1 – March 31) 8:30 – 17:00. Closed on Mondays except for public holidays.
Ticket price: 60 RMB peak – 40 RMB offseason
Jingshan Park 景山公园
Jingshan Park is located on the back hill of the Forbidden City and comes from Shenwumen. Crossing the road can directly enter the south gate of the park. The "Wanchun Pavilion" on the top of the hill is the best place to overlook and photograph the panorama of the Forbidden City.
Time: 1-2 hours recommended
Opening hours: April – October: 6:30-21:00, November – March: 6:30-20:00
Ticket price: 12 RMB
Shichahai 什刹海
Beijing's famous historic district, where many celebrities' former residences and palace sites were scattered. If you have enough strength, you can go for a stroll. Houhai Bar Street is the heart of nightlife in Beijing.
Time:  2-4 hours recommended
Opening hours: open all day
Ticket price: free
Day 2
Today is the day to climb the Great Wall. If you are not worn out by the climb, you can visit the Ming Tomb by bus. Afterword, wandering the Lama Temple and finish the night with a cool drink or some shopping at Sanlitun. Tip: this is a tight schedule using public transport in which case you may choose to drop the Ming Tombs.
Badaling Great Wall 八达岭
You can get up early and take the S2 Train at Huangtudian Station and get off at Badaling Station. You can also take a bus. And then choose to climb either the north or south side, and walk up or take the cable. See a more detailed guide to visiting Badaling here.
Time:  3-4 hours recommended
Opening hours: peak season (April 1st – October 31st) 6:30-19:00 off-season ticket sales time (November 1 – March 31) 7:30-18:00
Ticket price: 35 RMB
Ming Dynasty Tombs 明十三陵
It is recommended to visit Dingling first because it is the only mausoleum in the Ming Tombs where the underground palace was opened. If there is still time, you can see the Changling Mausoleum where Ming Chengzu and Zhu Xi were buried. A more detailed guide to the Ming Tombs and buses here.
Time: 3 hours recommended
Opening hours: All the scenic spots of Ming Tombs  8:00-17:30 (March 1st to October 31st), 8:30-17:00 ( Off-season from November 1 to March 31)
Ticket price: a Combo Ticket for all attractions here is 130 RMB peak – 100 RMB off-peak
Lama Temple (Yonghe Temple) 雍和宫
A functioning monastery for Tibetan Buddhism that dates back to 1694.
Time: 2 hours
Opening Hours: Apr. 1 to Oct.31: 9:00 to 16:30; Nov.1 to Mar.31: 9:00 to 16:00
Ticket: 25 RMB
Sanlitun 三里屯
Beijing's hottest, most trendy and coolest shopping destination. More than 200 stores are located in stained-glass wall buildings. In addition to many brand flagship stores, there are many original designer brands that are full of personality and are in pursuit of fashion trends. You will also find many eateries and several bars.
Opening hours: The commercial area is open all day, most of which are open from 10:00 to 22:00.
Day 3
Starting from the Temple of Heaven in the morning, visit the place where the ancient emperor worshiped. Afterword, visiting the Summer Palace. Then finish the night at the ancient commercial streets, Qianmen Street and Dashilan.
Temple of Heaven 天坛
Touring is usually enter via the South Gate and exit the West Gate, visiting the key sites inc Circular Mound Altar →  → Echo Wall → Imperial Vault of Heaven → Danbi Bridge → Hall of Prayer for Good Harvests → Palace of Abstinence. Going there early enables you to admire many locals enjoying daily socializing rituals.
Time:  2-3 hours recommended
Opening hours: Gates open: peak season (April 1st – October 31st) 6:00-22:00, off-season (November 1 – March 31st) 6:30-22:00. Park attractions open: peak season 8:00-17:30, off-season 8:00-17:00.
Ticket price: 68 RMB
Summer Palace 颐和园
Imperial Palace and Gardens of the Qing Dynasty. Take your time and relax, this is beautiful traditional Chinese garden on an impressive scale. More details and visiting guide here.
Time: 3-6 hours recommended
Opening hours: peak season (April 1st – October 31st): 6:30-18:00, off-season (November 1 – March 31st a year): 7:00-17:00.
Ticket price: 56 RMB
Qianmen Street 前门大街
Beijing's ancient commercial street, Beijing's old restaurant gathering place, you can eat roast duck, mutton, and other traditional cuisines. Nearby Hutong also has old shops and old buildings like Rui Haoxiang, Beijing Camera Factory, China Hat Culture Museum, and so on. Read more about Qianmen Street. While here you can also visit Dashilan Street, another ancient commercial street. Also note, there are a lot of Hutongs in this area, and you may choose to explore more. Here is a guide to Beijing Hutongs.
Time:  1-2 hours recommended
Opening hours: open all day – shops from 10 am to 10 pm
Like to change a few destinations? See my picks for the top 20 things to do in Beijing, and the mega-list of attractions, sights and things to do in BJ.
Where to Stay in Beijing?
These are my four picks, based on great value, consistently good reviews, foreigner friendly, and closeness to the subway/metro system.
The four-star Novotel Xinqiao or the three-star Beijing Chong Wen Men Hotel which are both near Chongwenmen Station (line 2 and line 5) and near to Beijing Railway Station.
The four-star Ji Hotel which is steps away from Xuanwumen Station (line 2 and line 4)
The four-star Sofu Hotel is a very short walk to Ping'anli Station (line 4 and 6).
See more hotel picks here including my picks for the top 5-Star hotels in Beijing.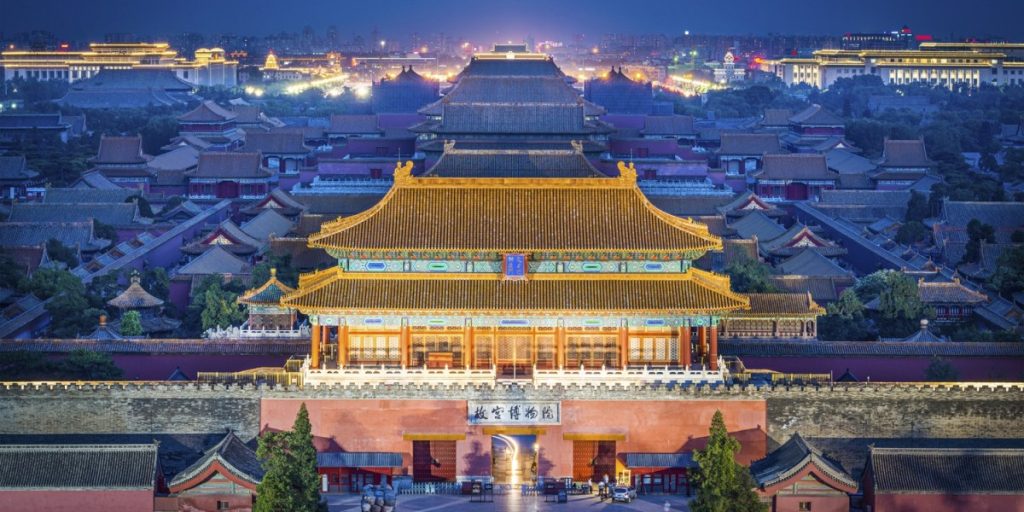 .