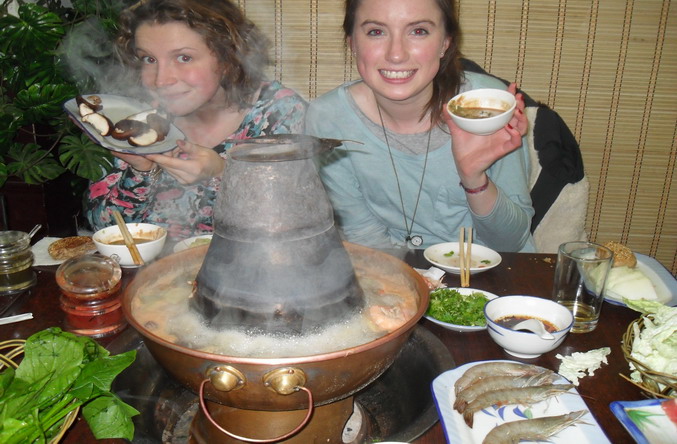 There is nothing can compare with eating Hotpot in the cold winter! Almost none of Beijing people don't love it. You will find that Hotpot stores are everywhere in Beijing. Now let me introduce some information about Beijing Hot Pot.
Two kinds of hotpot restaurants can be found in Beijing: Mongolian style and Sichuan style. The staple of both types of hotpot is mutton. The meat is usually sliced frozen so that it curls up into a tube shape. Then you place the meat into the hotpot, which is a copper pot containing a boiling soup base. After a few seconds the meat is cooked and you dip it into a sesame butter sauce. Other staple include beef , frozen bean curd, Chinese cabbage, bean sprouts, and glass noodles .
Spicy Sichuan hotpot has a very spicy soup base, but the pot is often divided into half spicy, half non-spicy soup pots. The soup base for Mongolian style is not spicy, and usually consists of some vegetables and seafood.
Restaurants of hotpot
Hai Di Lao(海底捞)
The most popular Hotpot Store recently. Atmosphere and servicehere is 5 star. When you are waiting for the table, you can play cards, play PS3 or XBox360 in the waiting room.
Average Cost per Person: CNY50 – CNY60
Hai Di Lao (Da Hui Temple Branch)
Location: 2, Da Hui Temple Lu, Haidian District
Hai Di Lao (Mudanyuan Branch)
Location: No.2, Huayuan Donglu, Haidian District
Hai Di Lao (Jinsong Branch)
Location: No.29, Nanmofang Lu, Chaoyang Disttict
Hai Di Lao (Baizhifang Branch)
Location: Bldg 1-2, No.42, Guanganmen Nanjie, Xuanwu District
Hai Di Lao (Beiao Branch)
Location: 3/F, Beiao Mansion, No.2 A, Huixin Dongjie, Chaoyang District
Hai Di Lao (Xidan Branch)
Location: 7/F, Xi Youyi Emporium, No.109, Xidan Beidajie, Xicheng District
Tian Yi Shun
If you are a hotpot lover, you need to give here a try. Everyday, here is crowded with people. The boiling soup is delicious and the mutton is fresh. Sheep's backbone stewed in the pot taste super awesome.
Average Cost per Person: CNY40
Recommended Dishes: Sheep's Backbone
Tian Yi Shun (Yiheyuan Branch)
Location: No.88-11, Beisihuan Xilu, Haidian District
Tian Yi Shun (Wukesong Branch)
Location: No.9, Fushi Lu, Haidian District
Little Sheep(小肥羊)
Average Cost per Person: CNY50
Little Sheep (Caishikou Branch)
Location: No.43, Guanganmennei Dajie, Xuanwu District
Little Sheep (Tiantongyuan Branch)
Hours: 11:00 – 22:00
Location: No.21, Tiantongyuan, Changping District
Little Sheep (Xiaoxitian Branch)
Location: No.37, Wenhuiyuan Xijie, Haidian District
Little Sheep (Yayuncun Branch)
Location: Bldg1, Yayuncun Anhuibeili Yayuan, Huizhong Beilu, Chaoyang District
Little Sheep (Jinsong Branch)
Location: Bldg 811, Section 8, Jinsong, Chaoyang District
Little Sheep (Guozhan Branch)
Location: No.34, Xibahe Zhongli, Chaoyang District
Hongyuan Rinse Meat Restaurant
Average Cost per Person: CNY47
Hongyuan Rinse Meat Restaurant (Tiantan Branch)
Location: Bldg 13, Yongneidongjie Dongli, Chongwen District
Hongyuan Rinse Meat Restaurant (Andingmen Branch)
Location: Bldg 3 B, Andingmenqiao Dongheyan, Dongcheng District
Hongyuan Rinse Meat Restaurant (Nangongfang Branch)
Location: No.1, Nangongfang Hutong, Xicheng District