The Beijing Subway is modern, efficient, cheap, and easy to use. In most cases, it's the fastest way to get around the city. Via the subway, you can visit almost all of the cities central attractions with ease.
2019 Beijing Subway English/CN Map 
Click for larger image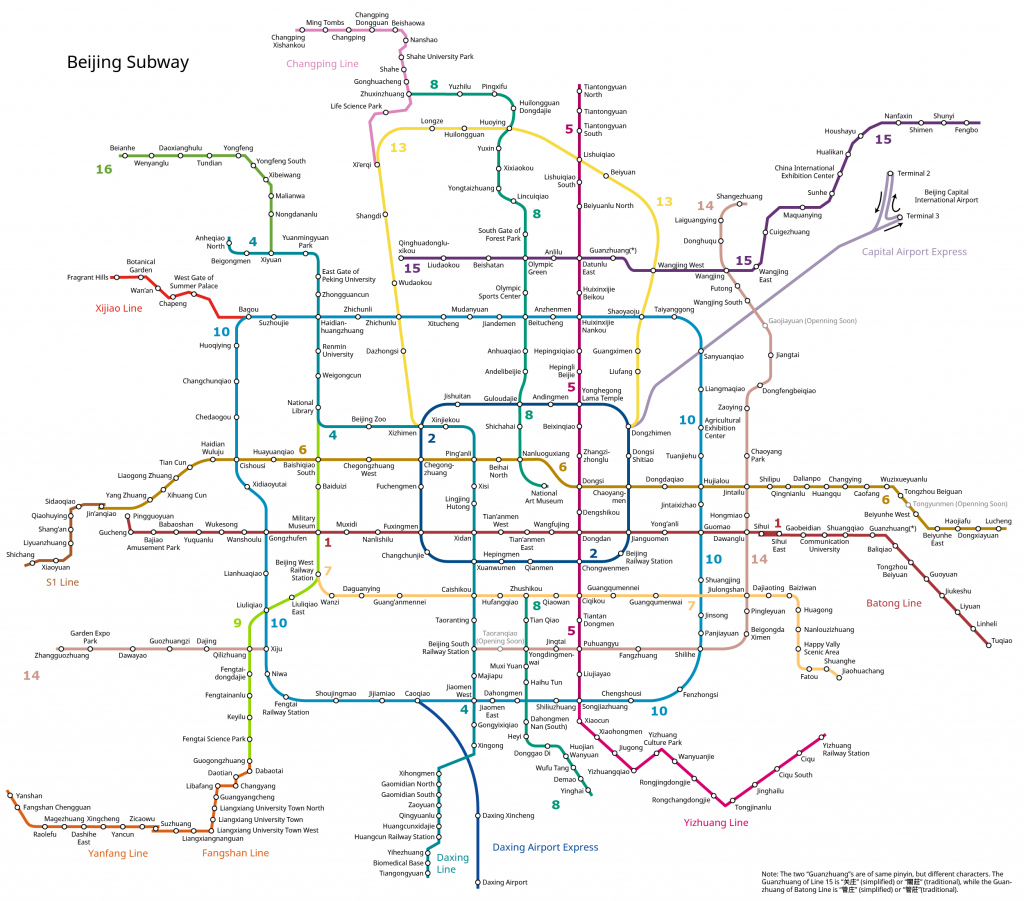 Lines serving the urban core
Line 1 – a straight east-west line underneath Chang'an Avenue, which bisects the city through Tiananmen Square. Line 1 connects major commercial centres, Xidan, Wangfujing, Dongdan and the Beijing CBD.
Line 2 – the inner rectangular loop line traces the Ming-era inner city wall that once surrounded the inner city, and stops at 11 of the wall's former gates as well as the Beijing Railway Station.
Line 4 – a mainly north-south line running west of city centre with stops at the Summer Palace, Old Summer Palace, Peking and Renmin Universities, Zhongguancun Technology Park, National Library, Beijing Zoo, Xidan and Beijing South Railway Station.
Line 5 – a straight north-south line just east of the city centre. It passes the Temple of Earth, Lama Temple, and the Temple of Heaven.
Line 6 – a nearly straight east-west line running parallel and to the north of Line 1. It passes through the city centre north of Beihai Park.
Line 7 – an east-west line running parallel and to the south of Line 1 and Batong Line, from Beijing West Railway Station to Jiaohuachang.
Line 8 – a north-south line following the city's central axis from Changping District through Huilongguan and the Olympic Green to Shichahai and Nanluoguxiang inside the Second Ring Road.
Line 9 – a north-south line running west of Line 4 from the National Library through the Military Museum and Beijing West Railway Station to Guogongzhuang, southwest of city centre.
Line 10 – the outer loop line runs underneath or just beyond the Third Ring Road. Apart from the Line 2 loop, every line through the urban core intersects with Line 10. In the north, Line 10 traces Beijing's Yuan-era city wall.
Line 14 – operates in two sections: an east-west line from Zhangguozhang to Xiju on Line 10, in the southwestern suburbs and an inverted L-shaped line from the Beijing South Railway Station east to Beijing University of Technology in the southeast before turning due north through the Beijing CBD, Chaoyang Park, Jiuxianqiao, and Wangjing to Shan'gezhuang in Chaoyang District.
Lines to outlying suburbs
The following lines run from the edge of the urban core to outer suburbs beyond the Fifth Ring Road.
Line 13 – arcs across suburbs north of the city and channels commuters to Xizhimen and Dongzhimen, at the northwest and northeast corners of Line 2.
Line 15 – starts from the east of Tsinghua University, passes the Olympic Green and Wangjing, and runs northeast to suburban Shunyi District.
Line 16 – runs parallel and to the west of Line 4. The northern section opened in 2016.
Batong Line extends Line 1 eastward from Sihui to suburban Tongzhou District.
Changping Line – branches off Line 13 at Xi'erqi and runs north through suburban Changping District. The line passes the Life Sciences Park, Shahe University Park, and the Thirteen Ming Tombs.
Daxing Line – extends Line 4 south to suburban Daxing District.
Fangshan Line – extends Line 9 south from Guogongzhuang to Fangshan District in the southwestern suburbs.
Yizhuang Line – extends from Line 5's southern terminus to the Yizhuang Economic & Technological Development Zone in the southeastern suburbs.
Xijiao Line – extends Line 10 – it's a modern above-ground tram which is perfect for sightseeing as it passes the Summer Palace, the Beijing Botanical Garden, and terminates at Fragrant Hills Park.
Yanfang Line – extends the Fangshan Line – Terminating in Yangshan and servicing 9 stations over 16.6 km, it is the country's first driverless subway.
Line S1 – extends Line 1 from Pingguoyuan station – Interestingly it's a maglev line, but not a super-fast line like Shanghai, this one tops out at 100kph. The line connects a lot of historic attractions in the area inc. Lingguang Temple, Fahai Temple, Jieshi Village, and Housangyu Village.
Airport lines
Airport Express – connects the Beijing Capital International Airport, 27 km (17 mi) northeast of the city, with Line 10 at Sanyuanqiao and Lines 2 and 13 at Dongzhimen.
Daxing Airport Express – connects to the new Beijing-Daxing International Airport from Cao Qiao Station where you can transfer to Line 10, Line 11 or Line 19. It is a fast rail (160 km/h) and uses driverless automated technology.
Apps and Maps for navigating Beijing Subway
I don't recommend using Google Maps as the maps are quite outdated and don't show the latest subway lines and stations.
App suggestion
(all links to Playstore, but also can be found on Apple store yet probably no need as Apple maps works OK in China)
OsmAnd maps – Offline street maps with navigation
Baidu maps – It's in Chinese only but you can point and click to get directions
Buying Tickets
Fare guide: 3RMB for the first 6km, 4RMB for 6 to 12km, 5RMB for 12 to 22km, 6RMB for 22 to 32km, and 2RMB for every additional 20km after that.
You can simply purchase tickets via touch-screen ticket machines (Chinese and English) at the station with ticket vending machines accept 1RMB coins, plus 5RMB and 10RMB banknotes.
Transportation Smart Card (Yikatong – 北京市政交通一卡通)
If you are in Beijing for a while, you may like to use a Transportation Smart Card (Yikatong). Transport Smart Card which enables you to simply swipe at the turnstile to enter and exit the metro. It's very convenient. Saving the need to have small change and line up to buy tickets.
The card can be purchased for 20RMB (refundable), and you can top it up as you need. For a few days seeing the sights, adding 50RMB is a safe bet. At the end of your time you can return the card and get the refund and any remaining balance returned.
The cards are available at the Customer Service Center of every metro station. It can also be used on buses, some taxis, the Airport Express Line, and more.
Beijing Subway tips and facts
The Beijing Subway system has 22 lines and over 350 stations! It's the second longest subway system in the world after the Shanghai Metro.
For visiting the cities key attractions visitors will find Line 1 and Line 2 the most useful.
All stations have dual language signage (Chinese and English)
Most of the stations open at 5:30 am and close and 11:30 pm.
Luggage: no item should be more than 30 kg in weight, more than 1.8 meters in length, or more than 0.5 meter in width/height.
Children under 1.3 meters have free pass
Chinese Name: 北京地铁 Beijing Subway
Official website: bjsubway.com/en/
Beijing Attractions by Subway
The Olympic Forest Park – Take Line 8 to South Gate of Forest Park station.
Beijing Happy Valley – Take Line 7 to Happy Valley Scenic Area station.
The Palace Museum – Take Line 1 to Tian'anmen East station.
Bird's Nest – Take Line 8 to Olympic Sports Center station.
Shichahai – Take Line 2 to Jishuitan station.
Temple of Heaven Park – Line 5 to Tiantandongmen station.
Summer Palace – Daxing Line to Xiyuan station.
Nanluoguxiang – Line 6 to Nanluoguxiang station.
Capital Museum – Line 1 to Muxidi station.
Beijing Car Museum – Line 9 to Keyilu station.
Confucian Temple and Imperial Museum – Line 5 to Yonghe Temple station.
Shijia Hutong Museum – Line 5 to Dengshikou station.
Geological Museum of China – Line 4 to Xisi station.
National Museum of China – Line 1 to Tian'anmen East station.
Chongwenmen CBD – Line 2/5 to Chongwenmen station.
Dashilar pedestrian street – Line 2 to Qianmen station.
Solana – Line 14 to Zaoying station.
Wangfujing pedestrian street – Line 1 to Wangfujing station.
Xidan CBD – Line 1/4 to Xidan station.
Silk Street – Line 1 to Yong'anli station.
Articles, Posts, and Shop/Attraction reviews by Subway Station
This page was first published on Feb 25, 2012 and updated Jan 2019.