Beijing Daxing International Airport (IATA:PKX,ICAO:ZBAD) (CN: 北京大兴国际机场) is located approx 45km south of the city center in Daxing District of Beijing. It will be the city's second international airport alongside Beijing Capital International Airport.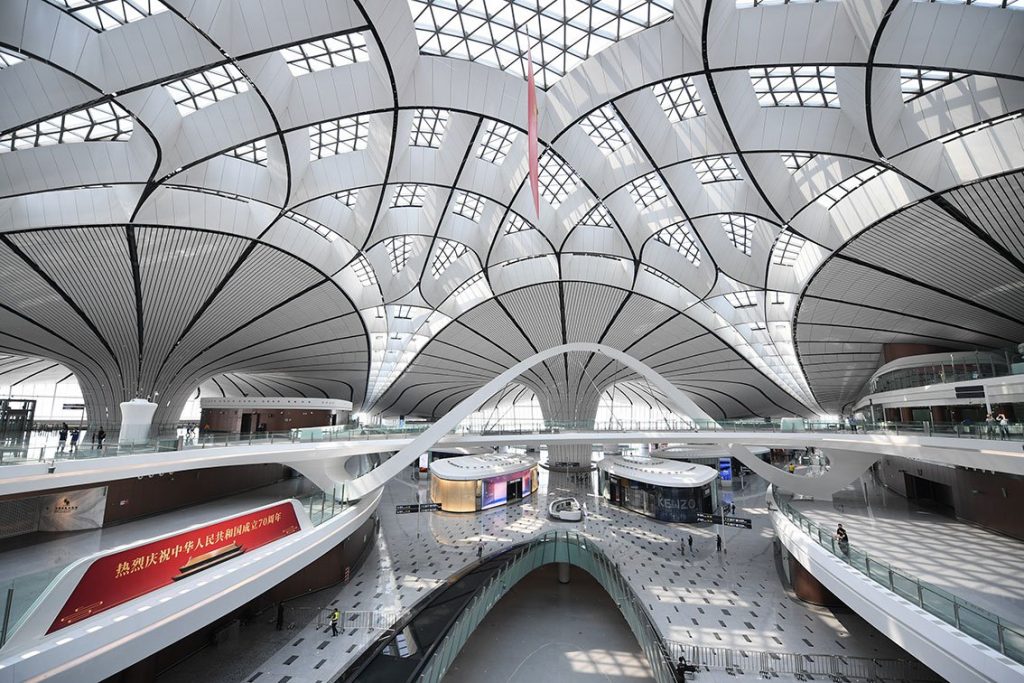 It is expected to become the worlds largest airport featuring 4 runways a gargantuan 700,000 square meter terminal area. Expectations are that the airport will handle 100 million passengers each year.
Beijing Daxing International Airport facts
Address: Lixian Town, Yu Town, and Langfang Town of Daxing District, Beijing
Chinese Name: 北京大兴国际机场 Běijīng dàxīng guójì jīchǎng
Nickname: Starfish
Project cost: 120 billion RMB ($17.5 billion USD), or 400 billion ($55.6 billion USD) including rail and road links
Terminal Designer: the late Zaha Hadid and her British firm along with the French ADPI
Master Plan: Netherlands Airport Consultants (NACO)
Capacity: 45 million passengers by 2021, 72 million by 2025 and 100 million by 2040
Airport ground size: 47 square km (18 square miles)
Airport terminal size: 695,000 square meters (7.5 million square feet)
46 km from the central area eg. Tiananmen Square
67 km from Beijing Capital Airport
85 km from Tianjin Binhai Airport
26 km from Langfang City Center
86 km from Baoding City Center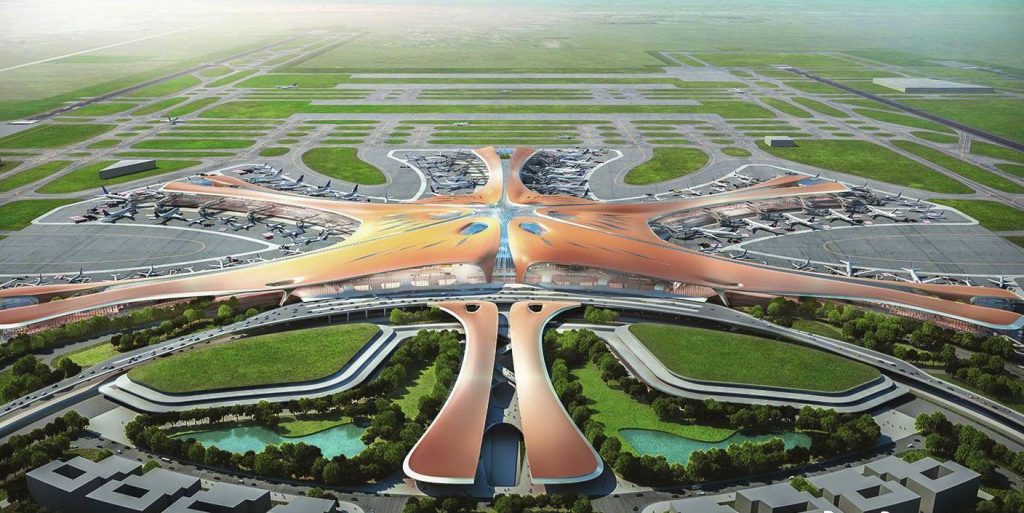 About Beijing Daxing International Airport
Beijing Daxing International Airport has a total investment of about 80 billion yuan. It will feature 4 runways and 700,000 square meters of terminals. The main building and the gallery are meeting the needs of 72 million and 45 million people respectively.
Beijing Daxing International Airport was opened by President Xi Jingping on the 25th September 2019 and saw its first commercial flight on the 26th September 2019. It is understood that China Eastern Airlines will invest 150 to 200 large-scale wide-body and narrow-body aircraft to operate here, opening links to the Americas, Europe, Australia, Japan, and South Korea, Southeast Asia, Hong Kong, Macao, and Taiwan too and from Daxing International.
The new airport terminal parking building project is also China's first energy-efficient building 3A project.
Floor Guide
International Departure: 4F
Domestic Departure: 3F
Domestic Arrival: 2F
International Arrival: 1F
Transportation Center: B1 & B2
Facilities at Beijing Daxing Airport
WiFi: The airport will feature free WiFi coverage throughout, you can easily log in using your Chinese mobile number or show your passport at a service desk to receive login details.
Mobile Coverage: All major mainland mobile carriers will be supported at the airport and it will also be a key area for new 5G coverage. Sim cards will be available for sale onsite.
Chinese Garden: covers an area of ​​about 2,000 square meters and is located at the end of the international passenger arrival at the south-central corridor. The park has pavilions and pavilions, which showcase the characteristics of traditional Chinese architecture and aim to show the world the charm of traditional Chinese culture.
Landside features: featuring childcare and nursery, interactive pet hotels, hybrid online retail, dining places, gym, spa, swimming pool, cinemas, and showrooms.
Left luggage: There will be several left luggage and baggage storage services.
Showers and change rooms: The public access toilet and bathroom facilities are comprehensive, and you cal also utilize the pay by the hour Aerotel hotel, and various lounges.
Comprehensive Service Building: This building will be divided into two parts. The northern part will be for hotels while the southern one which will be close to the terminal is for business and office.
Food and Beverage: there will be a large range of restaurants and options. Starbucks is expected to open 10 stores in the airport along with the usual fast food options inc. McDonald's, KFC, Kungfu, Costa Coffee, Pizza Hut, Ajisen Ramen, and numerous local brands. Other cafes and restaurants include Blue Frog Bar & Grill (North American), Chee Kei (Asian noodle), Taoyuan Village (Chinese), Hungry Korean (Korean), and Saboten (Japanese). There is a food policy at the airport of "same price and same quality as the city" which if effective would be a welcome change.
Retail: There is a host of luxury brands names at the airport including a large Louis Vuitton store in the domestic terminal.
Duty Free: in the International terminal you'll find China Duty Free Group and Lagardère Travel Retail.
Currency Exchange: There are full-service banks in the airport and currency exchange services from leading international brands. There are also ATM's that can offer multiple currencies.
Signage: All signage in the airport is at minimum dual language Chinese/English with all customer service staff having English skills.
Hi-tech features of BJ-Daxing Airport
It is a 3A energy-efficient building featuring a solar farm, geothermal power station, hi-tech glazing that reduces energy needs for lighting and cooling, advanced controllable LED lighting
Baggage can be tracked by a mobile app throughout the airport (available with certain airlines)
Facial recognition systems used throughout the airport
Robot assistants are used by some airlines to help with check-in
Paperless customs – no need for boarding passes
Beijing Daxing International Airport Gallery
From construction to completion
Interesting Facts and Features
Featuring a central transport hub including high-speed rail, intercity trains, and subway.
Minimal walking distances – The distance between the transport hub and airport terminal center is less than 600m or 8 mins walk thanks to the starfish design
Speed of baggage delivery – the aim is for the first luggage item to appear on the carousel within 13 minutes of landing
Superfast transfer times between arrival to boarding/departure
Beijing Daxing Airport Map
Getting to/from the airport
The airport is connected via a new subway line to the central area of Beijing at Cao Qing Station where you can connect to other subway lines, more here. It will be the fastest subway/metro line in China allowing passengers to transfer easily and reach the airport in under 20 minutes.
Other transfer options include six city bus routes, intercity bus lines, taxis, the High Speed Rail Station at the airport connecting you to other cities. More detail on all transport options here.
In the near future, there will also be an interconnecting rail line between Beijing Capital Airport and Daxing Airport. Plus a High Speed Rail line between Beijing West Railway Station and the airport, and from the airport to Xiong'an.
See more about transport services at Beijing Daxing Airport
Hotels at Daxing Airport
The airport will feature over 800 rooms at its onsite hotels. The first hotel to open inside the airport is Aerotel Beijing which is a pay by the hour. There are also nearby offsite hotels in Daxing (15 mins by taxi) such as JI Hotel Beijing Daxing Airport or in nearby Langfun (25 mins by taxi) with the pick being the Four Points by Sheraton. See more about hotels at Daxin Airport.
Airport Lounges
The airport will be a hub for SkyTeam alliance airlines and some Oneworld member airlines who will offer lounges for its business and first-class passengers. Travelers can also use the pay by the hour Aerotel hotel located inside the airport.
Visa on Arrival and TWOV at Daxing Airport
Foreigners from select countries can get TWOV (Transit Without Visa) at the airport on arrival. This offers 144hrs free travel in Beijing, Hebei, and Tianjin.
Arrival Times for Departing Flights
You should arrive at the airport around 2-3.5 hours before flight time
Check-in closes (before take-off): Domestic Flight – 45 mins. International – 75 minutes
Close Time for Boarding: 20 minutes before take-off
Flight transfer times (est): Domestic to domestic – 30mins. Domestic to international – 60 mins. International to international: 45mins
Airport Layover Tours
Beijing Daxing Airport layover tours – depending on your time between flights. If more than 5 hours you may consider a small tour of the city highlights such as Temple of Heaven, Tiananmen Square, and Jingshan Park where you can look over the Forbidden City. Longer layover times would allow for
Forbidden City & Tiananmen Square – layover time of 7+ hours
Badaling section of the Great Wall – layover time of 9-10 hours
Mutianyu Great Wall – layover time of 9-10 hours
Huanghuacheng Great Wall – layover time of 9-10 hours
Night Tour – inc. sights such as the National Performance Centre, CBD, Wangfujing St, and Houhai Lake
City Highlights – Forbidden City, Tiananmen Square, Temple of Heaven and Summer Palace