There are five main railway stations in Beijing each servicing differing destinations with different train options between high-speed G & D trains and the older K, Z, T and S2 trains.
The below map highlights the main stations and my picks for the top hotel choices nearby to them.
Which Train Station in Beijing should I use?
It depends where you are heading, and how you would like to get there. Whether that is by normal speed train, sleeper train, or the new high-speed trains. K, Z, and T are normal speed trains with options for sleeper carriages on long journeys, while D trains are high-speed trains to nearby cities, and G trains are high-speed to other provinces.
The best bet is to choose the ticket that suits your timetable and head to the specified station. You can search timetables and buy tickets online at Ctrip.com and also see our guide to buying train tickets in Beijing.
Popular train routes from Beijing
Beijing to Shanghai | Beijing to Xi'an | Beijing to Guangzhou | Beijing to Hong Kong | Beijing to Shenzhen
Beijing Railway Station
Destinations include Harbin, Shenyang, Dalian, Qingdao, Jinan, Shanghai, Nanjing, Hangzhou with choices of overnight sleeper trains or high-speed D trains.
You can also take the train here to Pyongyang (North Korea DPRK), Moscow (Russia), Ulaanbaatar (Mongolia), and Hanoi (Vietnam).
Address: (北京火车站) Beijing Zhan Jie, Dongcheng District. See here for nearby hotels and station info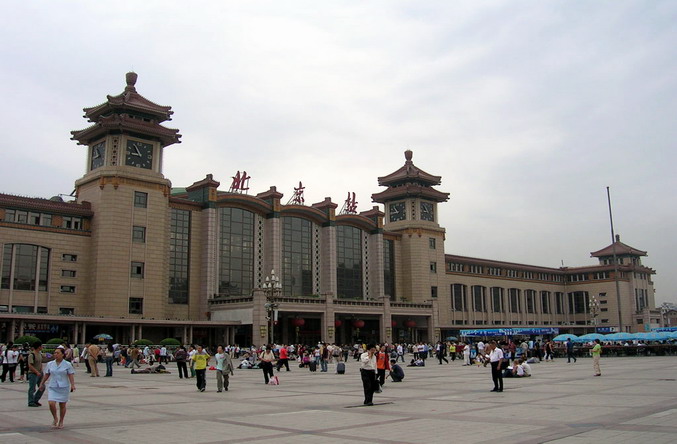 Beijing West Railway Station
This is one of the busiest stations. It's the station for Xi'an-Beijing trains and Hong Kong-Beijing Trains. There are endless destinations available from this station also including Guangzhou, Shenzhen, Zhengzhou, Wuhan, Lanzhou, Chengdu, Chongqing, Taiyuan, Xiamen, Guilin, Urumqi, Kunming, Lhasa and even Sanya.
Overnight sleeper trains are an option from here, plus high-speed G trains and D trains.
Address: (北京西站) Lianhuachi Donglu, Fengtai District. See here for more info and nearby hotel picks
Beijing South Railway Station
This is a high-speed train only station. Here you can catch fast trains to Tianjin, Jinan, Harbin, Shanghai, Qingdao, Fuzhou and other cities.
Address: (北京南站) Yongdingmenwai Dajie, Chongwen District.  See here for station info and nearby hotels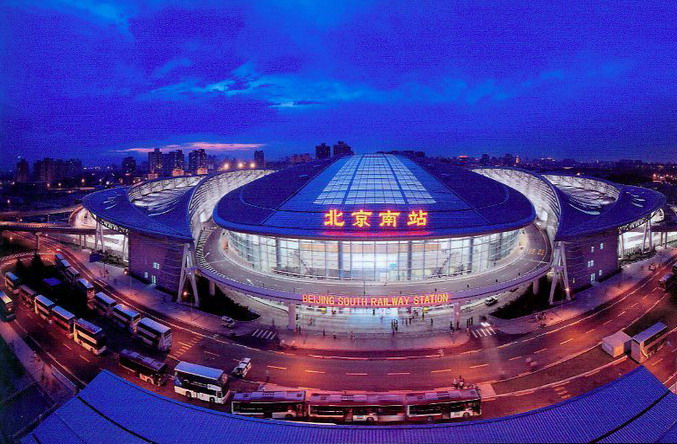 Badaling Railway Station
Services the Badaling section of the Great Wall. Badaling Railway Station is serviced by S2 trains. The line begins at Beijing Huangtudian Station while Beijing North Station is being renovated. More station info here.
Beijing North Railway Station
NOTE: this station is closed and undergoing renovation
The trains departing from Beijing North Railway Station: offering regular intercity train services to the north and northwest, including the Huhhot-Manzhouli Grasslands Express (K274/K275/K277). It is also the southern terminus for the S2 Line of from the down Beijing to Badaling Great Wall and to Yanqing. See here for more station info.
Add: Xizhimen, Xicheng District
Tel: 51866223
Tips: Booking train tickets is not that easy in China. Click here to know more about it.