The 9 Must Visit Shopping Streets in Beijing
Beijing's key shopping streets and pedestrian streets offer not only a chance to grab anything from curious to designer bags, but also a chance to admire the historic streets, the ancient culture, and also the new modern glitzy malls and China's new-found consumer culture. It's difficult to know where these streets start and finish so there is a map at the bottom of the page outlining where you need to be.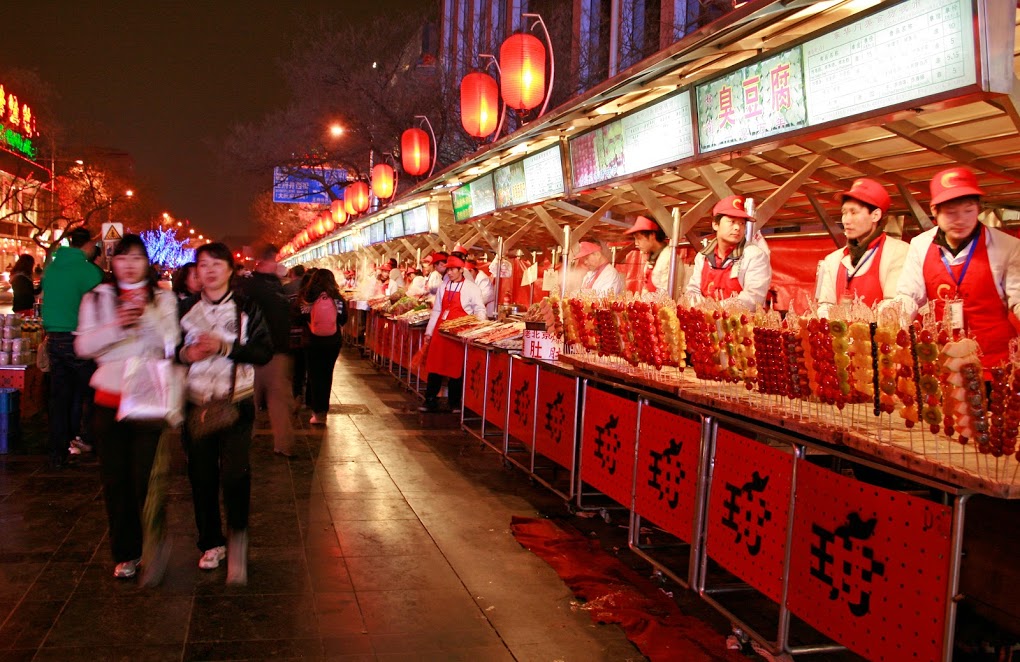 1. Wangfujing Street 王府井大街(wáng fǔ jǐng dà jiē)
If you visit any of the shopping streets then Wangfujing must be first on the list. The pedestrian street has a rich history and nowadays it's a mix of modern shopping malls and brands together with the historic shops that formed the existence of the famous street. It's roughly 1600 meters in length with 800 meters being pedestrian-only. On Donganmen Street at night you will find Wangfujing Night Food Market (王府井夜市) which is a must-visit for its vibrant displays of all sorts of odd snacks. Another must snack expedition is the very famous Wangfujing Snack Street (王府井小吃街) where you can snack on anything from tofu to scorpions. Key traditional stores include Shengxifu hat store (盛锡福), Tongshenghe shoe shop (同升和), Chinese Photo Studio (中国照相馆) and the Wuyutai tea house (吴裕泰茶庄), Ruifuxiang Silk & Cotton Shop (瑞蚨祥), Gongmei Mansion (工美大厦) and Yong'an tang Herb Store (永安堂百草药店) plus many more. The main modern malls are Malls at Oriental Plaza (东方新天地) and Sun Dong An Plaza (Beijing APM 新东安市场). More here.
Subway: Wangfujing Subway Station, line 1
2. Xidan Commercial Street 西单商业街(xī dān shāng yè jiē)
It stretches some 5KM and the Xidan Cultural Square located at the southern end of the shopping street is a huge and popular place for cultural events. More here
Key malls in the area
Xidan Shopping Center (西单商场) mix of fashion and beauty, tea, wine and more. Split across two buildings.
Grand Pacific Mall (君太百货) 8 floors with the basement dedicated to casual dining. The other floors mostly clothes, jewelry, and sportswear.
Joy City (大悦城) the modern mall features a cinema, lots of international and local brand names, and lots of eateries.
Hanguang Department Store (汉光百货) Popular for youth fashion and fashion accessories
Xidan Pearl Market (西单明珠商场) multi-floor wholesale and retail market with just about everything, remember to haggle
Subway: Xidan Subway Station, line 1 or line 4
3. Qianmen Street 前门大街(qián mén dà jiē)
Another historic shopping street with a 500-year-old history. The area features very traditional Chinese style architecture and now includes a mix of modern international brands along with curious, souvenirs, restaurants and cafes. More here
Subway: Qianmen Subway Station, line 2
4. Dashilan 大栅栏(dà shi là r)
Located near Qianmen Street, Da Shi Lar is 300 meters long, packed with people and stores. This is another traditional street with famous old stores including Rui Fu Xiang Silk Shop and Nei Lian Sheng Shoe Shop. More here
Subway: Qianmen Subway Station, line 2
5. Silver Street 银街(yín jiē)
Aka Dongdan North Street. You can find many mid-level fashion brands here along with handicrafts, clothing stores, jewelry, homewares, bakeries, cafes, restaurants, cinemas, and more. It's probably more a street for daily needs in the local life, but you may find something you are looking for here.
Subway: Dongdan Subway Station, line 1 or line 5
6. Beijing Lady's Street 女人街(nu rén jiē)
Popular fashion street for many imported clothes from South Korea, Hong Kong, and Taiwan.
Subway: Liangmaqiao Subway Station, line 10 (15 mins walk)
7. Jianguomenwai Street 建国门外大街(jiàn guó mén wài dà jiē)
A modern commercial area featuring many well-known shopping malls including China World Shopping Mall, Friendship Store, SCITECH Plaza, Guiyou Department Store and more.
Subway: Jianguomen Subway Station, line 1
8. Chaowai Street 朝外大街(cháo wài dà jiē)
Another modern commercial area popular for luxury and mid-level shopping. In the area, you'll find Galaxy SOHO, Fullink Plaza, U town, Alien's Street Trade Market, Youtang Shenghuo Square, and more.
Subway: Chaoyangmen Subway Station, line 2
9. Liulichang Cultural Street 琉璃厂大街 (Liúlí chǎng dàjiē)
This is the place to check out traditional wares such as calligraphy, painting, artworks, souvenirs, and curios. The area features traditional-style Chinese architecture and even if you are not buying, it's a great place to simply stroll.
Subway: Hepingmen Subway Station, line 2 (5 mins walk)
Beijing Shopping Street Map
Where to Stay in Beijing?
These are my four picks, based on great value, consistently good reviews, foreigner-friendly, and closeness to the subway. The four-star Novotel Xinqiao or the three-star Beijing Chong Wen Men Hotel which are both near Chongwenmen Station (line 2 and line 5) and near to Beijing Railway Station, or the four-star Ji Hotel which is steps away from Xuanwumen Station (line 2 and line 4), or the four-star Sofu Hotel is a very short walk to Ping'anli Station (line 4 and 6). See more hotel picks here.
More things to do by type
More things to do by location
More things to do by nearby Subway Station