Xidan Commercial Street
Perhaps not as well known as Wangfujing Street, yet, Xidan Commercial Street also dates back to the Ming Dynasty (1368-1644).and is one of Beijing's ancient commercial areas.
It starts from Xuanwumen in the south and runs for more than 5 km to Xinjiekou in the north. For most people, the main area of focus is the cluster of shopping malls near to Xidan Station. I'll feature these on the map further below.
A major attraction for local people is Xidan Culture Plaza (西单文化广场) which is a large public space with lots of open area for square dancing, seating, green space, and fountain. Here's a pic of a small section.
Malls along the commercial street include: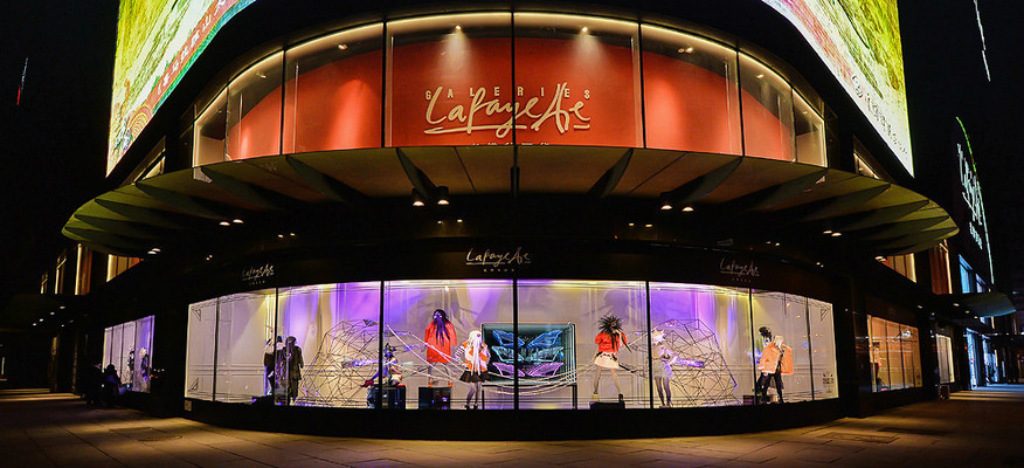 Galeries Lafayette Beijing – new 6-floor mall featuring I.T store, TOPMAN, TOPSHOP, French supermarket, and more.
Chinese Name: 老佛爷百货
Xidan Department Store & Shopping Mall – 7 floor mall that features a range of value eateries, cosmetics, fashion, and an ESPRIT store.
Chinese Name: 西单商场
Xidan Shopping Centre –  features a Costa Coffee, several eateries, fashion, and jewelry.
Chinese Name: 西单购物中心
Yigou Shopping Mall – 8 floors of fashion, food and cosmetic. Popular with young locals.
Chinese Name: 西单新一代商城
Xidan Mingzhu Market (Pearl Market) – the first floor is mobile phones, then multiple floors of fashion and cosmetics with a food hall on the top floor.
Chinese Name: 西单明珠市场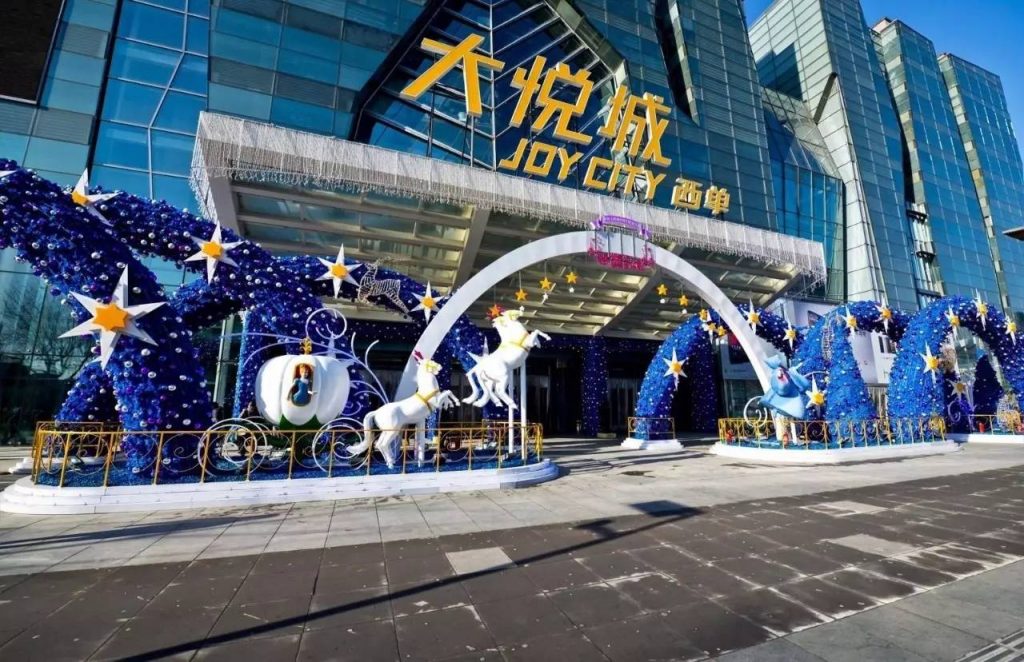 Xidan Joy City – 12-floor modern mega-mall, the largest in Xidan, featuring BHG supermarket, NBA store, Paul Frank, Northface, UnderArmour, ZARA, UNIQLO, H&M, the largest cinema in Beijing, hotel and more.
Chinese Name: 大悦城
Beijing Grand Pacific Mall – several floors of food and fashion inc. Versace, Gucci and bauhaus, yet it's not exclusively a luxury mall, they have regular sales events here.
Chinese Name: 君太百货
Hanguang Department Store – lots of beauty and cosmetics, fashion, modern and a touch upmarket.
Chinese Name: 汉光百货
Beijing Book Building – massive bookstore. English books can be found on the basement floor.
Chinese Name: 西单图书大厦
Where to stay? The nicest hotel in the area is the 5 star Pan Pacific Beijing.
Map
Chinese name: 西单商业街 (Xidan Commercial Street)
Getting There: Take subway line 1 or line 4 and get off at Xidan Station
More things to do by type
More things to do by location
More things to do by nearby Subway Station