Beijing's #1 Shopping Destination: Wangfujing Street
What do you get when you combine a thousand-year-old commercial area, traditional snack stalls, time-honored local brands, today's hottest global brands, and modern glitzy malls?
Wangfujing Street Beijing. One of China's most famous shopping streets. The entire street is over 1.5 km long but the pedestrian section is the main area of focus and it begins one block from Wangfujing Station and heads north for about 800 meters.
Large malls along the street include
Beijing APM (Song Don An)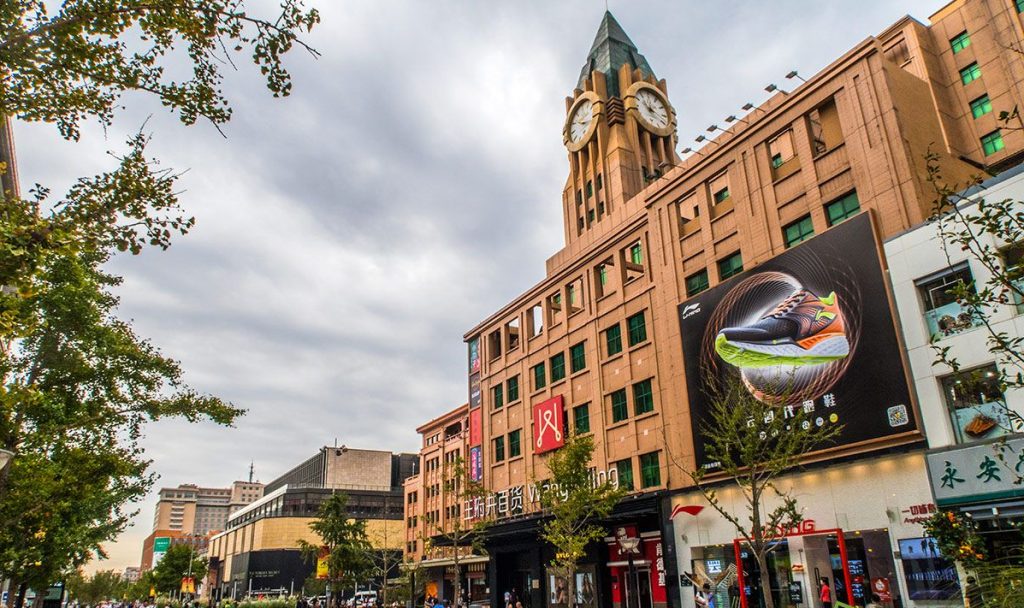 Other Interesting landmark stores
Wangfujing Bookstore
Foreign Languages Bookstore
Xin Zhong Guo Children's Goods Store
Yong Zheng Tailors Shop
Quanjude Roast Duck Restaurant
Tianfuhao eating house
Wuyutai Tea House
Wangfujing Gongmei Emporium
Buyingzhai, Neiliansheng, Tongshenghe shoe shops
Daiyuexuan writing brushes store
Daoxiangchun and Xiangjugong cake shops
Jianhua fur garment store
Jiguge antique store
Majuyuan and Shengxifu hat stores
Ruifuxiang silk store
Wangmazi scissors shop
Yuanchanghou tea house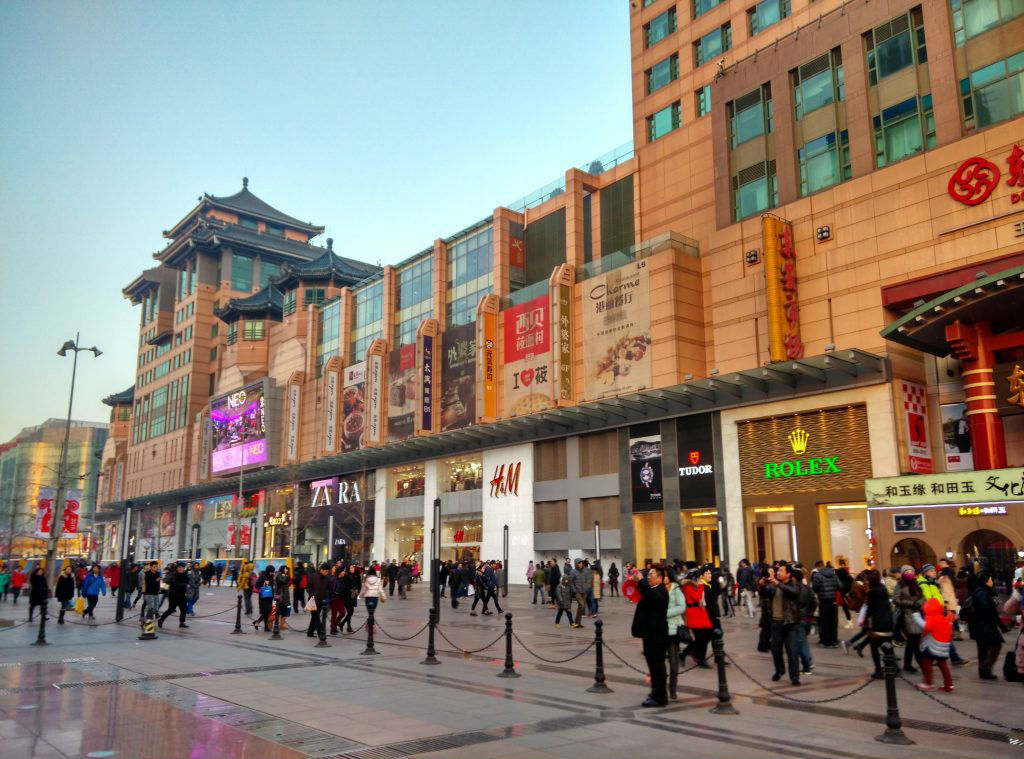 Big Brands
You can find many flagship stores here including Apple, Casio, Prada, GAP, Burberry, Bally, Tudor, H&M, Victoria's Secret, TAGHeuer, Adidas, NIKE, ZARA, Cartier, Rolex, Giordano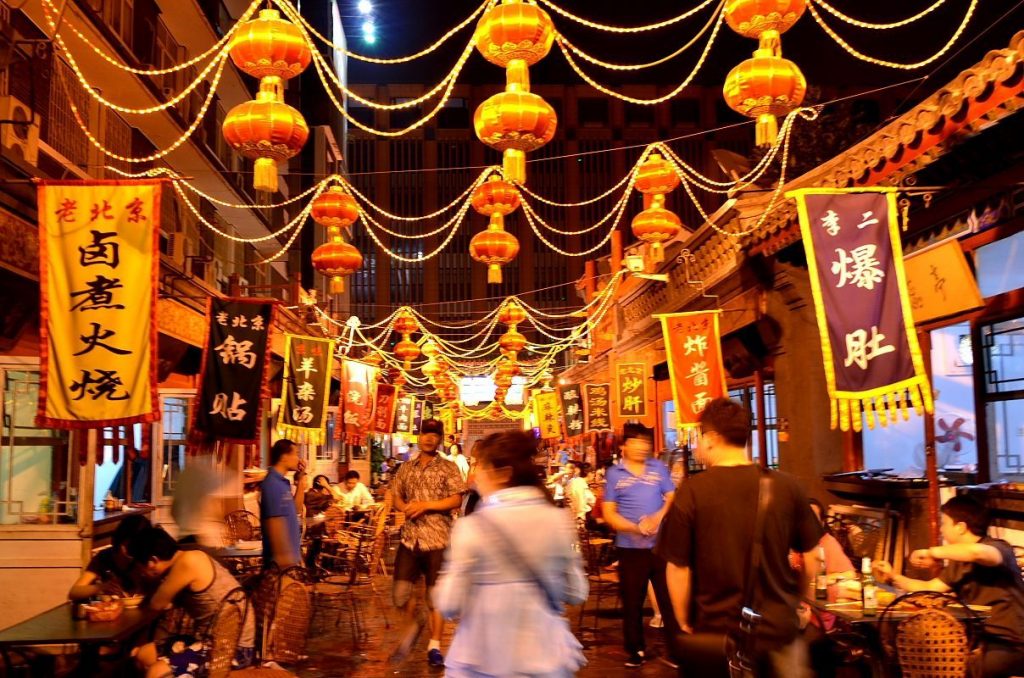 No shortage of things to Eat!
Wangfujing Snack Street (王府井小吃街) is a must, a whole selection of China's most famous delicious snacks to chow down on. Looking to eat a scorpion on a stick? You'll also find that here too.
Quanjude Roast Duck Restaurant (全聚德) is another must, get there early to beat the rush.
Donglaishun Restaurant (东来顺) – over 100 years old with a menu just as long.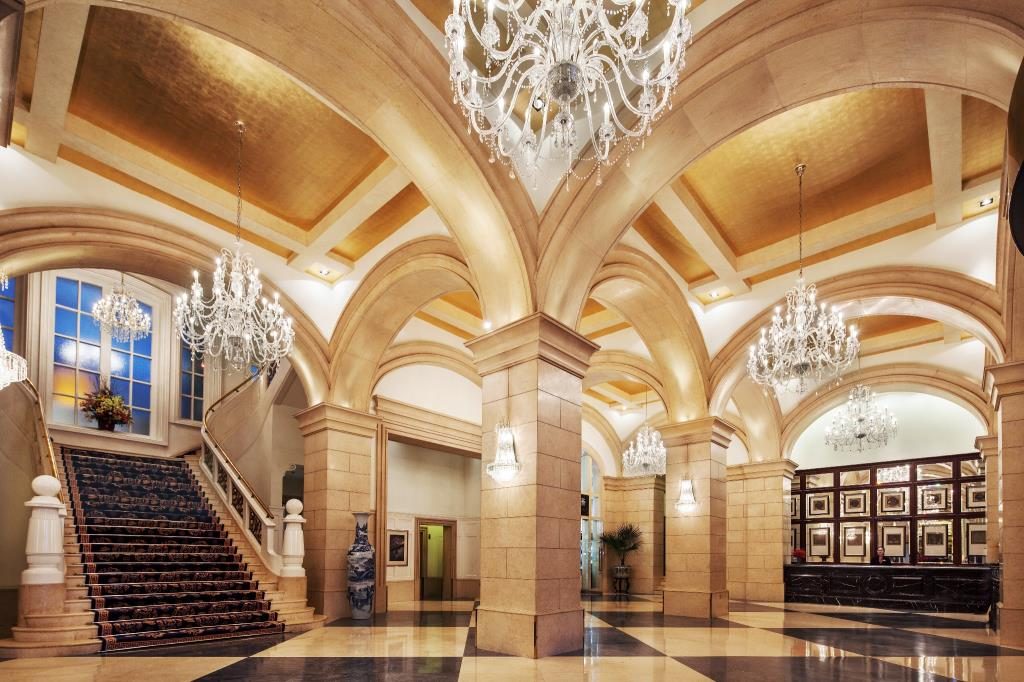 The top hotels on Wangfujing Street are numerous and include
Beyond Wangfujing Pedestrian Street
After the pedestrian section, which ends at the major intersection with Dong'anmen Street, there are still more shops but possibly the major attraction in this section is St. Joseph's Wangfujing Church (王府井天主堂). It's one of the four historic churches of Beijing and was built back in 1655.
Getting There: The easiest way to reach the pedestrian street section is via the subway line 1 and get off at Wangfujing Station
Shop hours: generally from 10 am to 10 pm.
Chinese Name: 王府井大街
Map
Printable Wangfujing attraction tour route map
More things to do by type
More things to do by location
More things to do by nearby Subway Station