If you want to feel the true Old Beijing Culture, then you must taste the Beijing Snack. Every kind of Snack has its own history and hornor.   The snack you can't miss are  glutinous rice rolls with sweet bean flour(驴打滚儿)、candied rice fritter of Manchu origin (萨琪玛)、yellow split peas cake(豌豆黄儿)、Candied fruit(糖葫芦)、sweetened baked wheaten cake(糖火烧)、fermented bean drink(豆汁儿)、and stewed liver(炒肝儿) etc.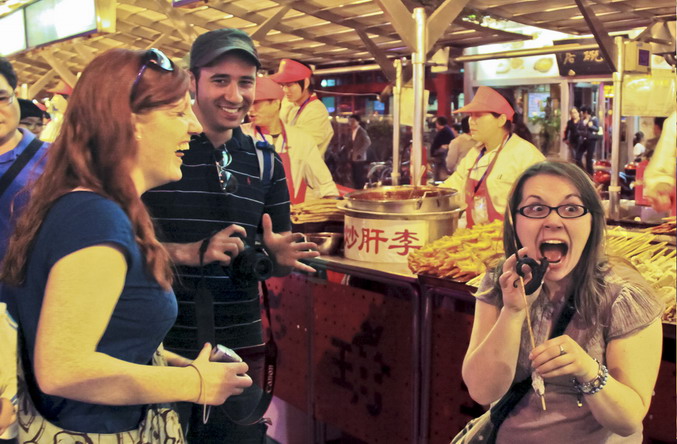 Shichahai Snack Street(什刹海小吃街)
The most popular snack street in Beijing, day or night it is filled with throngs people busily coming and going and partaking of the fare. In addition to the traditional local snack shops, there are many famous chain restaurants such as Starbucks here.
Gui Street(簋街)
Highly recommend here. Most restaurants in the street are open around the clock. If you are a night owl, Gui Street in Dongzhi Gate, is a good place to spend until the wee hours of the morning.
Location: Dongzhimennei Dajie, Dongcheng District
Qianmen Snack Street(前门小吃街)
There are a number of time-honored restaurants in Qianmen Street, including Quanjude Roast Duck, Duyichu Shaomai and Yitiaolong Restaurant.
Donghuamen Snack Night Market(东华门夜市)
Someone might recommend you here, but trust me, none of real Beijing People will go to Donghuamen Snack Night Market. The snack here is not only expensive but also not authentic. Here is full of  tourists who are mislead by the guide to here.  Don't come here.
Wangfujing Snack Street(王府井小吃街)
Like Donghuamen, here is not recommended. True Beijing people won't come here. But here is so convenient so it's slightly better than Donghuamen.