If you would like to know what the Beijing of old looks like, you are highly recommended to have a short adventure trip around the Hutongs, which are charming old alleyways often featuring Siheyuan (Courtyards).
You may explore the narrow alleys on foot, by pedicab rickshaw, or by bike. Bike rentals are available via most hotels and hostels. There are also bike hire shops around the major areas such as Shichahai (see map further below).
One way to see the old hutongs is by bike. One tour route idea is Drum Tower, Yandaixiejie (Skewed Tobacco Pouch Street), Yinding Bridge, Nanfang Hutong, Lotus Market and Beihai Park with focus on traditional courtyards, antique hutong, and more (2-3 hours).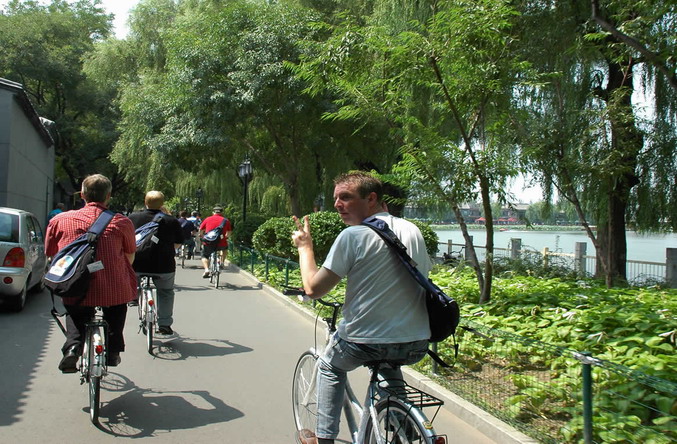 You can also hire a rickshaw, in that case, you can just sit in the pedicab and let the old Beijing Shifu carry you around to see the Hutong.
On foot is also a good way, but in this case, you have better have a friend with you or a guide because it's easy for you to get lost in the labyrinth of alleys. It is recommended when you are more familiar with Beijing and be able to understand and maybe even speak some Chinese. If you are handy with following maps and have your smartphone charged with VPN to access google maps, and have a good feel for things, you should be OK too.
Like streets, hutongs have their names. Some have had only one name since their establishment and others have had a few names throughout their history. A lot of hutong names are linked to the names of food, such as Miancha Hutong ( noodle and tea )
Some hutong names are connected to the names of the places, the temples, daily necessities, trades, light industry, plants, people's names and even government's organs.
The Must-See Hutongs in Beijing
If you take a look at the maps further below you will soon understand that there is a lot of Hutongs, spread out over a large area and you could spend weeks exploring them. To start, it may pay to focus on the top 10 Hutongs then, if you have time, explore more and more.
South Gong and Drum Lane (Nanluoguxiang)  南锣鼓巷
There are alleys diving off either side of this main alley so it's a great place to get lost and wander. Famed for its two towers the Drum and Bell Tower, and snacks.
Guozijian Street 国子监街
The street is famed for retaining its traditional archways and architecture, it also leads to the Confucius Temple and near to the Lama Temple.
Skewed Tobacco Pouch Street 烟袋斜街
The street was famed for selling, you guessed it, tobacco-related products, now it is mostly cafes.
Mao'er Hutong 猫儿胡同
Once home to many Imperial princesses.
Liulichang Cultural Street  琉璃厂文化街
Once a colored glaze factory, now it's a cultural street for arts, craft, and musical instruments.
Jinyu Hutong 金鱼胡同
Coming off Wangfujing St it's home to several famous buildings and is one of the widest Hutongs.
Dongjiaomin Lane 东交民巷
The longest Hutong, once home to embassies.
Xijiaomin Lane 西交民巷
It was once the financial street being home to ten banks.
Ju'er Hutong 菊儿胡同
With a length of 1,437 feet (438 meters), it starts from Jiaodaokou South Street in the east and ends at South Gong and Drum Lane in the west. It houses the former residence of Rong Lu, a minister in the late Qing Dynasty, including his mansion, ancestral hall, and garden.
Bada Hutong 八大胡同
It was once the red-light district of Beijing with several brothels, now these Hutongs are famed for their architecture and history. There are eight hutongs inc Baishun Hutong (百顺胡同), Yanzhi Hutong(胭脂胡同), Wang Guangfu Street (王广福斜街), Hanjiatan(韩家潭), Li Shamao Hutong (李纱帽胡同), Shaanxi Xiang (陕西巷), Shitou Hutong (石头胡同), and  Zhujia Hutong (朱家胡同).
Hutong Areas
Many of the above Hutongs are located in two key areas which are Shichahai and Dashilar (inc. Qianmen).
Shichahai 什刹海
Shichahai is a historical and cultural tourism scenic spot and a historical and cultural protected area in Beijing. The area includes three lakes being Qianhai, Houhai, and Xihai along with many historic buildings such as the Drum and Bell Tower, Prince Gong Mansion, Guanghua Temple, Prince Chun Mansion, Sanguan Temple, Huitong Temple, Zhenwu Temple,  and much more. It's a highly recommended area to go exploring.
A Hutong Tour route through Shichahai
Following the Shichahai attraction map below: Start at (B) and follow Qianhai West Street to Liuyun Street, then circle around Daxiangfeng Hutong, Xiaoxiangfeng Hutong, and Yannfang Hutong. Head back and along Houhai Nanyan to Xiaojinsi Hutong, Nanguanfang Hutong, and Qianhai Beiyuan. Click for larger map.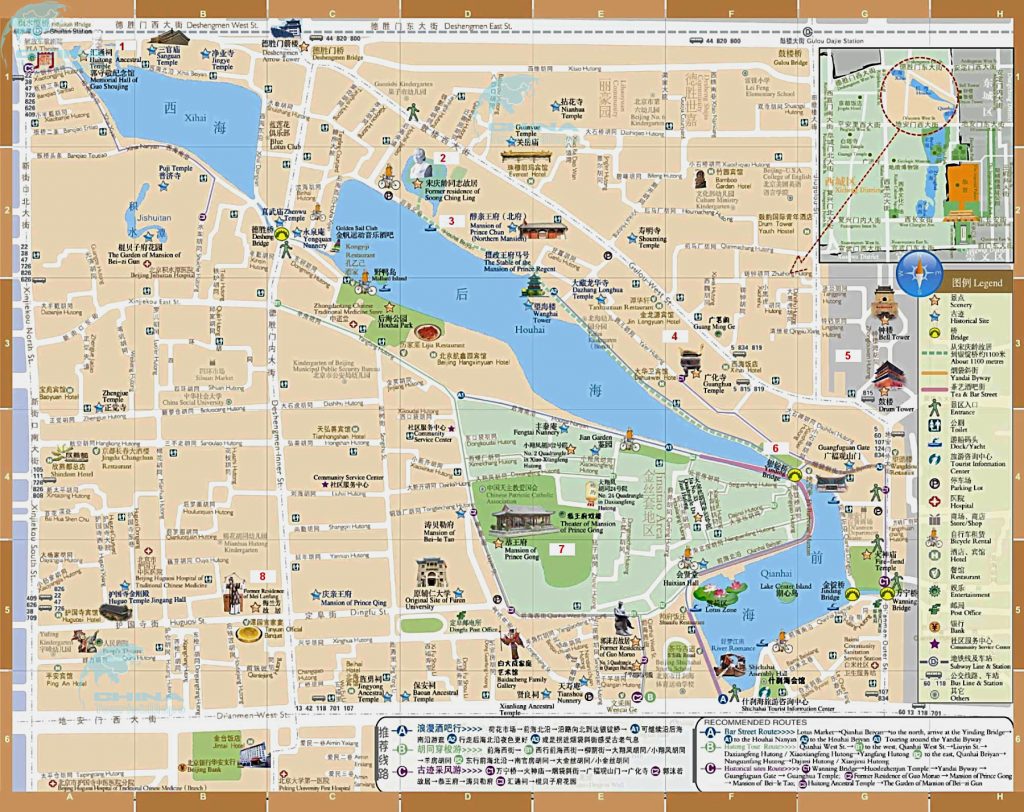 Dashilar  大栅栏  (inc. Qianmen)
Surrounding the famed ancient commercial streets of Qianmen Street and Dashilan Street you will find a labyrinth of Hutongs. Many of these have become bases for creatives, art galleries, and cafes.
Notable hutongs in the area include Liulichang Dongjie (ancient commercial area), Yangmeizhu Xiejie (artists and galleries), Yanshou Jie (traditional snacks), Menkuang Hutong  (traditional snacks),  many people also like to wander Baishun Hutong, Yanzhi Hutong, Hanjia Tan, Shaanxi Xiang, Shitou Hutong, Wangguangfu Xiejie, Zhujia Hutong, and Lishamao Hutong.
There is a comprehensive online map of Dashilar at www.dashilar.org which features shops, attractions, tour routes and much more.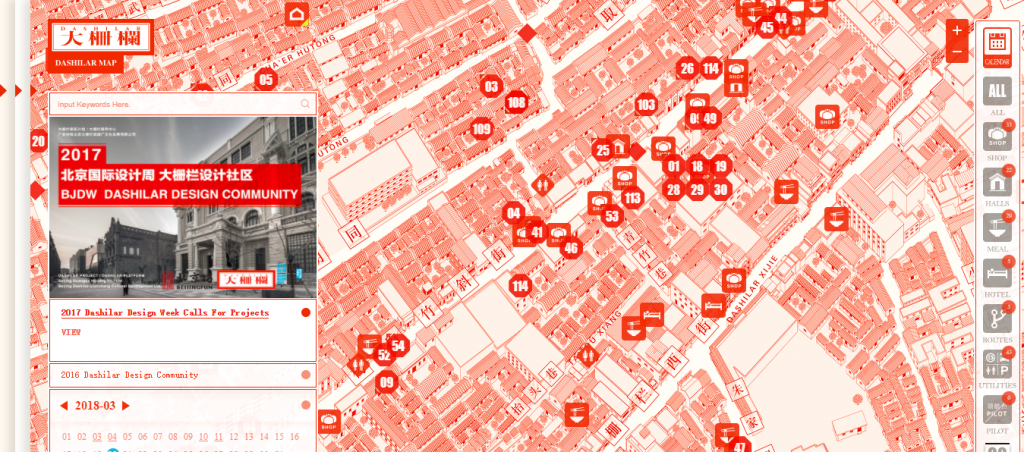 Beijing Hutong Street Map
This map outlines the famous Hutongs in Beijing. Click the square at top right a full-screen screen map.
Where to Stay in Beijing?
These are my four picks, based on great value, consistently good reviews, foreigner friendly, and closeness to the subway. The four-star Novotel Xinqiao or the three-star Beijing Chong Wen Men Hotel which are both near Chongwenmen Station (line 2 and line 5) and near to Beijing Railway Station, or the four-star Ji Hotel which is steps away from Xuanwumen Station (line 2 and line 4), or the four-star Sofu Hotel is a very short walk to Ping'anli Station (line 4 and 6).
See more hotel picks here including my picks for the top 5-Star hotels in Beijing.