As one of the most popular Cuisine in China, Cantonese cuisine originates from the region around Guangzhou of Guangdong province.  In the past, Cantonese cuisine includes almost all edible food in addition to the staples of pork, beef and chicken, such as snakes, snails, insects, worms, chicken feet, duck tongues, and entrails. But don't worry, nowadays some strange food are no longer supplied, what you can eat in a Cantonese Cuisine Restaurant are all normal and popular.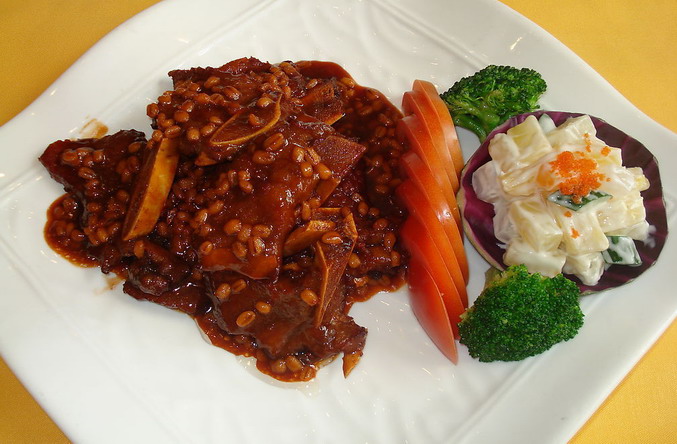 One feature of Cantonese Cuisine is they usually serves soup before a meal. The soup is usually cooked on mild fire for hours, and added with  Chinese herbal medicines sometimes, to make the soup nutritious and healthy.
Popular Cantonese Cuisine
Beef with Oyster Sauce is a typical Cantonese dish, as are Fried Rice and Steamed Chicken. Steamed sea bass, stir-fried garoupa, and Lobster Cantonese are all well-known Cantonese dishes. Shark's fin soup is a local delicacy.
Cantonese Cuisine Recommended
Lichang Seafood Restaurant(黎昌海鲜大酒楼)
You can eat all kinds of delicacies as well as Guangdong snacks in Lichang Seafod Restaurant, the oldest top-level Cantonese restaurant in Beijing. The seafood is flown in daily from Guangdong Province to promise that you can eat the freshest dishes here.
Fare: About 300 RMB per person
Lichang Seafood Restaurant (Huguosi Branch)
Location: No.137, Huguosi Dajie, Xicheng District
Bus Route: 22 (get off at Huguosi Stop)
Lichang Seafood Restaurant (Xi Balizhuang Branch)
Location: No.81, Fucheng Lu, Haidian District
Lichang Seafood Restaurant (Fangzhuang Branch)
Location: No.1, Guanxiang Dongli, Zuoanmen Wai, Fengtai District
La Paleta(彩色盘港式茶餐厅)
Eating here is cheap but you can still get the authentic Cantonese dishes here. It's such a comfortable place for you and your friends to date together.
Fare: about 50 RMB per person
Location: 4-20, Anhuili Second Block, Chaoyang District
Jin Ding Xuan(金鼎轩)
Here is the best place to eat the all kinds of authentic Guangdong dim sum(点心).
Fare: About 60 RMB per person.
Location of Ditan Branch: 77, Hepingli Xi Jie, Dongcheng District
Location of Tuanjiehu Branch: 15, Tuanjiehu Nan Lu, Chaoyang District
Location of Fangzhuang Branch: 16, Pufang Lu, Fangzhuang, Fengtai District
Location of Jinyuan Branch: 1F of Golden Resource New Yansha Mall, 1, Yuanda Lu, Haidian District
Upper Room(楼尚)
If you want a private space to enjoy authentic Cantonese Cuisine with your friends, here is your best choice.
Fare: About 50 RMB per person
Hours: 11:00-24:00 Monday to Saturday
Location: 6A, Guanghuali, Chaoyang District