Jiangsu cuisine, also known as Su Cai , is one of the major components of Chinese cuisine, and consists of the styles of Yangzhou, Nanjing, Suzhou and Zhenjiang dishes. If you like delicate food, you must give it a try!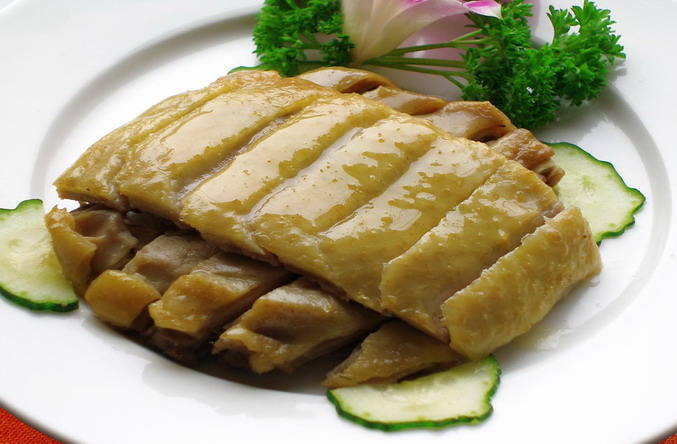 There are 3 main characteristics of Jiangsu Cuisine: 1. They are made of very exquisite ingredients, which are all very fresh. They usually use fresh and live aquatic products as raw materials. There are also selected tea leaves, bamboo shoots, mushrooms and pears as other cooking ingredients ; 2. Its carving techniques are delicate, of which the melon carving technique is especially well known; 3. Cooking Jiangsu Cuisine will use many methods, such as stewing, quick-frying, warming-up, stir-frying, wine sauce pickling and adding some sugar as condiments, making Jiangsu dishes taste fresh, light and mellow.
Typical courses of Jiangsu cuisine are Jinling salted dried duck (Nanjing's most famous dish), crystal meat (pork heals in a bright, brown sauce), clear crab shell meatballs (pork meatballs in crab shell powder, fatty, yet fresh), Yangzhou steamed Jerky strips (dried tofu, chicken, ham and pea leaves), triple combo duck, dried duck, and Farewell My Concubine (soft-shelled turtle stewed with many other ingredients such as chicken, mushrooms and wine).
Jiangsu Cuisine Restaurants recommended
Jade Garden(苏浙汇)
Fare: About 150 per person
Recommended Dishes: Fried Sweet and Sour Pork Ribs
Jade Garden (Zhongguancun Branch)
Location: Bldg1-2 C, Rongke Info. Center, No.2, Kexueyuan Nanlu, Haidian District
Jade Garden (Chaowai Branch)
Location: Jiahui International Center, No.6, Jiqing Li, Chaoyangmenwai Dajie, Chaoyang District
Su Zhe Restaurant(苏浙酒楼)
Fare: About 190 per person
Recommended Dishes: Fried Shrimp Meat, Eel Paste
Su Zhe Restaurant (Guomao Branch)
Location: 2/F, West Bldg, Guomao Mansion, No.1, Jianguomenwai Dajie, Chaoyang District
Su Zhe Restaurant (Zhongliang Square Branch)
Location: 4/F, Bldg C, Zhongliang Square, No.8, Jianguomennei Dajie, Dongcheng District
Su Zhe Restaurant (Hangtianqiao Branch)
Location: 1-2/F, Jinyu Mansion, No.100, Xisanhuan Beilu, Haidian District
Fu Tai Gong(福泰宫)
Fare: About 150 per person
Recommended Dishes: Smoked Fish, Sea Pumpkin
Location: North Square of West Bus Station, Fengtai District
Hua Yan Restaurant (华宴美食)
Fare: About 120 per person
Recommended Dishes: Stewed Cabbage with Chestnut, Stewed Meatballs with Brown Sauce
Location: No.18, Dinghuisi Dongli, Haidian Distrcit