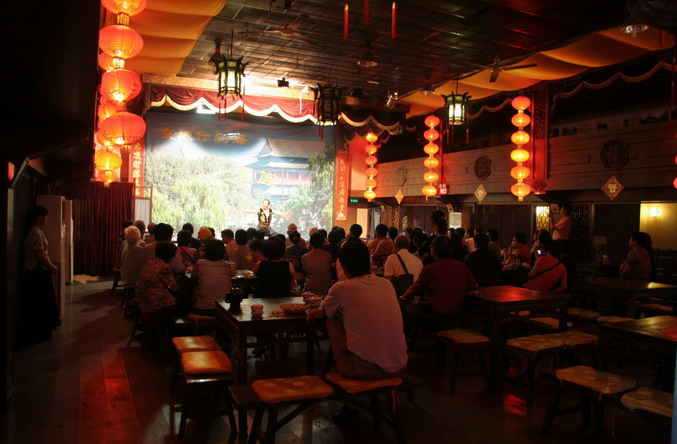 If you don't come to Teahouse Theater, then you can't say you have been to Beijing. Like Beijing people always say: "If I'm not in the teahouse, I'm on the way there", which indicates the importance of the tea for Beijing People. Teahouse is where people getting together, eating, drinking, chatting with each others and watching the show.
Nowadays, the tradition has become a fashion style. More and more people are willing to go to the teahouse theater to spend their whole night.  It is not only a place for people to sip tea, but also to experience the Chinese culture, such as watching a crosstalk.
One of the most famous teahous theater is Laoshe Teahouse. Since its open, Laoshe Teahouse has received many famous people, such as Present Mr. Bush of United States, former United States Secretary Dr. Kissinger, Singapore Senior Minster Li Kuan Yew etc, larges of celebrities and more than 3 million tourists from home and abroad.
Add: No.3, Zhengyang Market, Qianmen West Street, Xuanwu District
Website: www.laosheteahouse.com
Tel: 010-63036830

Open time: 10:00am-01:00am
How to get there: Metro Line 2, Qianmen Station