Taikoo Li Sanlitun North 三里屯太古里
Formerly known as Sanlitun Village, Taikoo Li Sanlitun is a super-modern area featuring a south section (The Piazza) and north section (The Deck).
Taikoo Li Sanlitun North
The collection of stores vary from the instantly recognizable, to the unique and intimate, providing you what you would expect, whilst at the same time offering something fresh and exciting just around each corner. Here you will also find several flagship stores.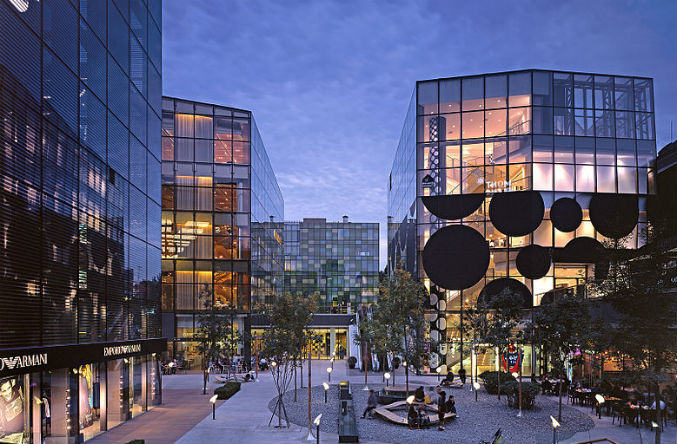 Taikoo Li Sanlitun North is home to an exclusive selection of creative luxury designers, housing some of the world's most prominent and exciting names as well as leading local designers – all of this held within a thoroughly modern take on the traditional siheyuan, open-air courtyard housing of Beijing.
A huge array of stores await you including Paul Smith, Alexander Wang, Joesph and Cara Blue, No21, Delvaux, Givenchy, GGDB, theory, Philipp Plein, Red Valentino, Gentle Monster, Diesel, Carven, Vera Wang, Love Moschino, Versace, and Kenzo.
You won't want to miss the Emporio Armani China flagship spread over five floors providing the latest looks from the Italian fashion giant. If the local design is what you're after then head down to multi-brand store Brand New China, stocking all the latest and hippest Chinese fashion and product designs.
Other major stores include I.T and Miu Miu. There is also a Lululemon store and Puma Black Store here.
Dining at Sanlitun Village North is a more sophisticated experience for the discerning diner. Stepping out here to eat is an entirely different culinary experience.
For dining, try Koyama for fine Japanese, Xi Ding Dumplings, Let's Seafood for western style dishes along with dim sum, Jing Yaa Tang for Peking Duck, Let's Burger plus for awesome mini-burgers, Transit on the 3rd floor for Sichuan dishes, Haru Teppanyaki & Sushi Bar for upmarket Japanese.
On the fourth floor, there is the bar Infrarouge which also features French dining on it's lower floor. On level one in the Opposite House there is also Mesh lounge and bar.
See here for more about The South District Of Sanlitun Village.
There is a 5 star hotel located on-site being the excellent Opposite House. Other nearby picks for hotels are CHAO Sanlitun and the Intercontinental Sanlitun.
What can you get there:  jewelry,  cosmetics, household goods, fashion clothes, watches,  office supplies,  electronic goods and much more.
Av Spend:  about 518 RMB per person
Nearby Hotel Pick: Intercontinental Sanlitun or the Opposite House
Chinese Name: 三里屯太古里
How to get there:  Metro Line 10, Tuanjiehu Station
Address:  Num 19, Sanlitun North Road, Changyang District. 地址: 朝阳区三里屯北路19号
Map
More things to do by type
More things to do by location
More things to do by nearby Subway Station