Wofo Temple – The Temple of the Reclining Buddha
Beijing Wofo Temple also known as the 'Recumbent Buddha' temple or Temple of the Reclining Buddha, is located in the south of Shouniu Mountain in the north of Xishan Mountain, on the eastern side of Xiangshan, 30 kilometers away from the urban area.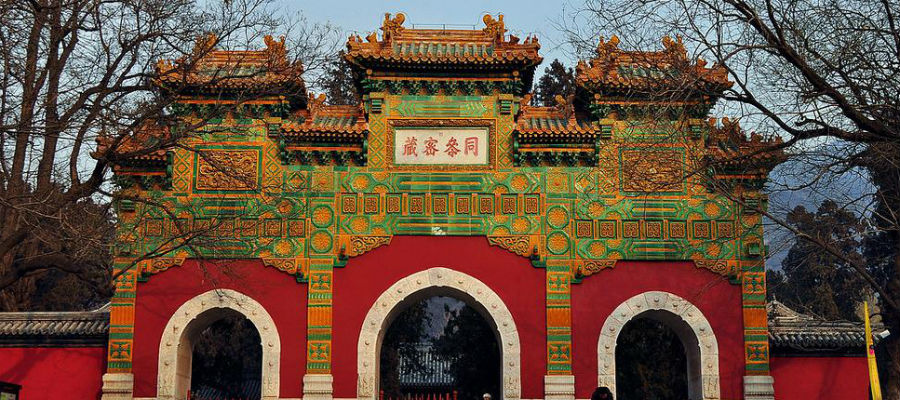 The temple was built in the Tang Dynasty (627-649), formerly known as the Douji Temple, also known as Shou'an Temple. After the dynasties, there were wastes and constructions, and the name of the temple changed with the dynasty. After being rebuilt in the 12th year of Qing Dynasty, it was renamed Puju Temple. Because of the reclining Buddha carved in sandalwood in the Tang Dynasty. Later, in the Yuan Dynasty, a huge bronze statue of Buddha was cast in the temple. Therefore, most people called this temple "The Reclining Buddha Temple."
The whole temple stands by the mountain. The main buildings are the Heavenly King Hall, the Third Buddha Hall and the Reclining Buddha Hall. The Reclining Buddha Temple is the essence of the whole temple. There is a huge copper reclining Buddha in the temple. The Buddha is more than 5 meters long and weighs about 54 tons. It is sleeping, lying on a high couch, with legs stretched out, the left hand lying flat on the leg, the right hand holding the head, and the body is natural. It is said that this is Sakyamuni. The posture of the Nirvana in India. Next to it stood twelve statues of clay sculptures, showing Sakyamuni's scenes to his disciples. This bronze statue was made in the Yuan Dynasty (14th century) and is a treasure of religious art in ancient China.
Map

Details
CN Name: 卧佛寺
Website: http://www.beijingbg.com/
EN Address: Xiangshan RD, Haidian District
CN Address: 北京市海淀区香山南路北京植物园 邮政编码: 100093
Nearby Hotel Pick: Fragrant Hill Empark Hotel Beijing
Getting There: Bus No. 112, No. 331, No. 505, No. 563, No. 696 get off at the Temple of Reclining Buddha. Subway You can take the subway line 4 to get off at Beigongmen Station, then take the 696 bus to get off at the Temple of Reclining Buddha.
Open Hours: 8:00-16:00
More things to do by type
More things to do by location
More things to do by nearby Subway Station