Dongyue Temple (Beijing Folk Museum)
Dongyue Temple, now known as Beijing Folk Museum is the only state-run folk museum in Beijing. The old Beijing Folk Customs Series Exhibition is held throughout the year.
There are also Guangzhao Hall, Prince Hall, and the Temple of the Rich and the Prince. On both sides of the Zongzongbao Temple, there are Sanmao Zhenjun Temple, Wuquan Festival Hall, Zhangliu Sun Temple, Shanfu Junyi Hall, and Lili Zhangren Temple. Then there are the Niangniang Temple, the Fighting Mother Hall, the Great Immortal Hall, the Guandi Hall, the Kitchen Hall, the Wenchang Emperor Hall, the Temple of the Gods, the Temple of the Spirit, and the Temple of Zhenwu. Dongyue Temple is one of the two major factions of Chinese Taoism. There are more than 600 rooms and halls.
Dongyue Temple is mainly dedicated to the god of Taishan, Dongyue Emperor. The back cover of Dongyue Temple is surrounded by three sides, two floors above and below, a total of seventy-four feet, and the building layout is relatively dense. It has become the showroom of the Beijing Folk Museum, with nine consecutive exhibition rooms and four independent exhibition halls.
The Dongyue Temple consists of three parts — main, east and west courtyards. The 17th generation Taoist Ma Guanlin expanded the east and west courtyards during the Qing Dynasty (1644-1911). Most of the extant buildings were the relics of the Qing Dynasty.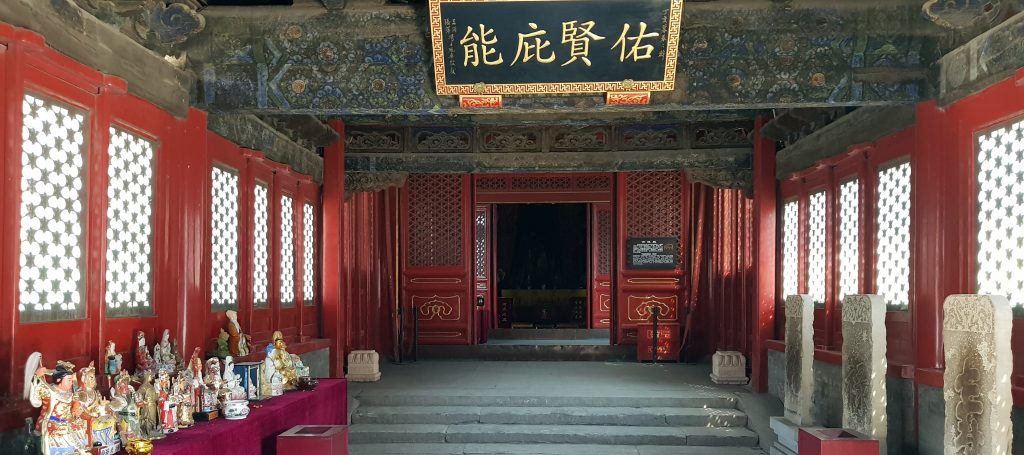 The Temple Fair for the Spring Festival is held here every year, showing many folk custom performances.
Map
Details
CN Name: 东岳庙(北京民俗博物馆)
Website: http://www.dongyuetemple.com/
EN Address: No.141, Chaowai Street, Beijing
CN Address: 北京市朝阳区朝外朝阳门外大街141号 邮政编码: 100001
Nearby Hotel Pick: Hotel Éclat Beijing
Getting There: Bus:101,109,110,112,750,846 and get off at Shenlu Street station (神路街)
Open Hours: 8:30-16:30 (closed on Monday)
More things to do by type
More things to do by location
More things to do by nearby Subway Station