The Birds Nest – National Stadium
Located at the northern end of Beijing's central axis, the Bird's Nest (National Stadium) was the main stadium for the 2008 Beijing Olympic Games. It has become one of Beijing's new landmarks in recent years due to its high-end atmosphere and numerous international competitions, and unique appearance. The exterior of the stadium is woven into a "Bird's Nest" shape by the intertwined steel. Its post-Games use is currently undergoing extensive planning.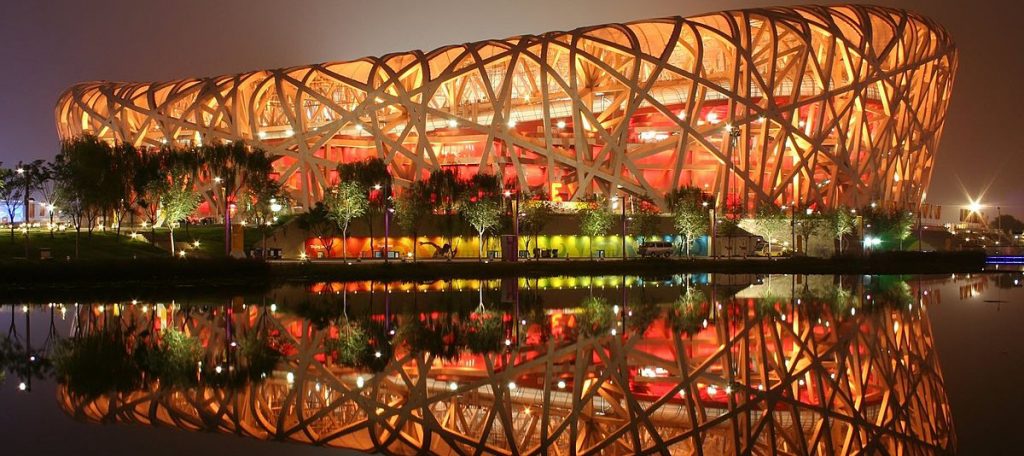 Exhibitions related to the construction of the Bird's Nest and related to the Olympic theme are displayed here and can be visited inside the Bird's Nest by purchasing a 50 RMB ticket. If you buy an 80 RMB ticket, in addition to the above content, you can also take the elevator on the top of the fifth floor of the Bird's Nest – the place where the original Olympic Torch Tower is located, from here you can also get unobstructed views of the surrounding Linglong Tower, the Olympic Park landscape avenue; Beijing City, and if the weather is good, you can even see the outline of Jingshan Park in the south. If you buy a VIP ticket of 110 yuan, then you can also visit the VIP lounge.
Perhaps the most attractive feature of the Birds Nest is the nighttime photo opportunity for which there are several angles to grab your own unique photo of the landmark.
Across from the National Stadium is the Water Cube (National Aquatics Centre) and a short subway ride away is Olympic Forest Park.
Map
Details
CN Name: 国家体育场
Website: http://www.n-s.cn/
EN Address: 1 National Stadium S Rd, Chaoyang
CN Address: 北京市朝阳区国家体育场南路1号 邮政编码: 100101
Nearby Hotel Pick: InterContinental Beijing Beichen
Getting There: Take the subway to Olympic Park Station and exit B2
Open Hours: High season (Mar 7-Oct31): 8:30-19:00; off-season (Novr 1 – Mar 6): 9:00-17:00
More things to do by type
More things to do by location
More things to do by nearby Subway Station