Temple of Confucius
The Confucius Temple Beijing, located on Guozijian Street dates back to 1302 and served as a ritual site for worship ceremonies dedicated to Confucius, the great Chinese thinker during the Yuan, Ming and Qing dynasties.
The Confucius Temple in Beijing went through a number of major renovations and extensions during the Ming and Qing dynasties. Consisting of nine rows of buildings, the temple is similar to the Imperial Palace in terms of architectural style.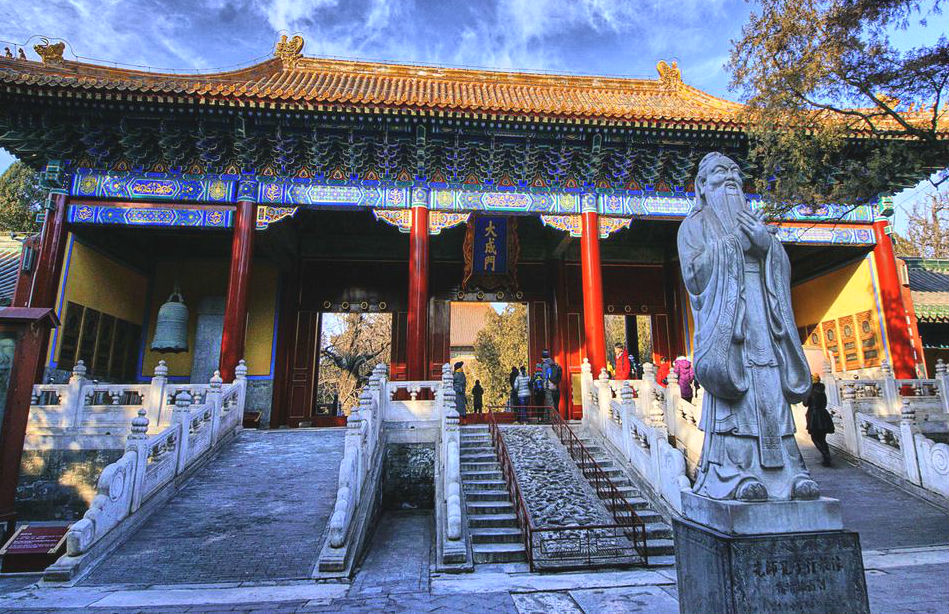 Its main buildings are situated along the central axis running from the south to the north and are flanked symmetrically by auxiliary ones on both sides. The temple is comprised of 466 halls and 54 gatehouses. Fenced off by lofty red walls, it has gatehouses as well as turrets. All main buildings at the site are crowned with yellow glazed roofs, a hallmark of the highest architectural standard in feudal China. It is also a mark of royalty's respect for Confucius.
The Temple is also renowned for its impressive collection of cultural relics, in particular, ancient stone tablets. 2,100 stone tablets at the site turn the temple into a museum of traditional Chinese calligraphy and inscription. Of these stone tablets, the best known are the 198 tablets bearing the names, familial origins and ranking of 51,624 distinguished scholars who passed the highest-level imperial examinations of the Yuan, Ming and Qing dynasties and were therefore awarded the jin shi degree.
Entry is 30 RMB
Map
Details
CN Name: 孔庙
Website: http://www.kmgzj.com/
EN Address: No.15 Guozijian Street,Andingmennei,Dongcheng District
CN Address: 北京市东城区国子监街15号 邮政编码: 100011
Nearby Hotel Pick: Grand Mercure Beijing Dongcheng
Getting There: Take subway line 2 or 5 to Yonghe Temple Station and take exit G.
Open Hours: May to Oct: 08:30 to 18:00 Nov to April: 08:30 to 17:00 and closed on Mondays Nov-Apr.
More things to do by type
More things to do by location
More things to do by nearby Subway Station