Prince Gong's Mansion
Prince Gong's Mansion is located in Qianhai West Street, Xicheng District, Beijing. It was once the residence of the officials and the princes of Yong and Qing, and was named for once being the residence of Prince Gong Xin.
Gongwangfu, aka Prince Gong's Mansion, has more than 30 various architectural highlights, and its layout is exquisite and extraordinary. The whole is divided into two parts: the mansion and the garden. The mansion is in the front (south) and the garden is in the back (north).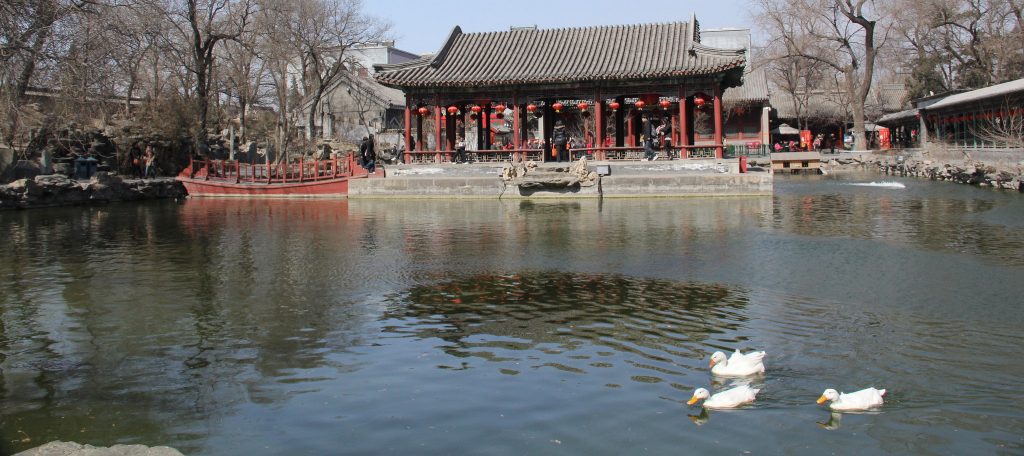 House
The mansion covers an area of about 30,000 square meters and consists of a number of courtyard houses running through a strict axis. It is divided into three, three, and three courtyards.
Zhonglu: The main buildings in the middle road are Yin'an Temple and Jiale Hall. The roof of the temple is covered with green glazed tiles, which shows the majesty style of the middle road and is also the embodiment of the prince's identity.
East Road: The front yard of the East Road is Du Fuxuan, and the son of Hefei, Feng Yi Yin De, later married the youngest daughter of the Qianlong Emperor, Gu Lun and Princess Xiao, and lived here, making this mansion a temporary The actual Princess House. After entering the courtyard, the main house was named Le Dao Tang. It was the living place of Prince Gong Xin.
West Road: The courtyard of the West Road is relatively small and exquisite. The main building is the Shuguang Room and Xi Jinzhai. The architectural boutique is a high-profile Xi Jinzhai. There is a beautifully carved Nanmu section in the hall. It is built in the style of the Ningshou Palace in the Forbidden City.
Garden
The garden is located in the north of the mansion, also known as the Cuijin Garden. It covers an area of 28,000 square meters and has 31 ancient buildings. In the same year, Prince Gong employed hundreds of skilled craftsmen for the construction of the garden. After the completion of the ceremony, his grandfather was the crown of the 100-seat palace of the capital. It is the essence of the existing Wangfu garden art in Beijing. The whole park is full of blessings and the theme is clear.
The 'Western-Style Gate,' the 'Grand Theater House' and the 'fu' Stele to be found in the garden are referred to as the 'Three Uniqueness in the Prince Gong's Mansion'.
Prince Gongs Mansion is located in the Shichahai area where there is much to explore including Houhai Bar Street, Bell and Drum Towers, and several hutongs.
Map
Details
CN Name: 恭王府
Website: http://www.pgm.org.cn/
EN Address: A14, Liuyin Street, Xicheng District
CN Address: 北京市西城区什刹海前海西街17号 邮政编码: 100009
Nearby Hotel Pick: Shichahai Sandalwood Boutique Hotel Beijing
Getting There: Take Metro Line 6 to Beihai North Station – Bus: 13, 42, 111, 107, 701, 118, 810, 823, 850 to 东官房 station.
More things to do by type
More things to do by location
More things to do by nearby Subway Station