Bell and Drum Towers
Located at the northern end of Beijing's north-south axis, the Bell and Drum Tower served as the time-keeping center of the capital during the Yuan, Ming, and Qing Dynasties. It is one of the landmarks of the ancient capital of Beijing and has a long history. The Bell and Drum Tower consists of two buildings, the Bell Tower and the Drum Tower. The two are longitudinally placed one behind the other.
In ancient China, the Bell and Drum Tower originated in the Han Dynasty. In both the Drum and Bell Towers, visitors climb steep stairways to the top to have a panoramic look out over the city. Entry is 15 yuan for the Bell Tower; 20 yuan for the Drum Tower.
There are drum performances to watch every day, every morning and afternoon lasting about 1 hour, each with 3-4 repetitions, the drums are loud and majestic.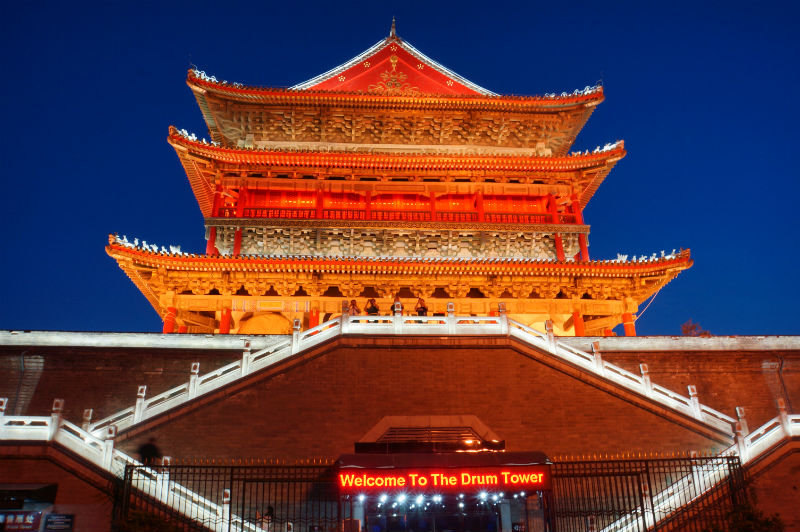 At night, the Bell and Drum Tower a beautifully lit making for a great photo op.
The Bell and Drum Tower are close to Shichahai area which includes many ancient sites, gardens, the scenic lake, and bar street.
Map
Details
CN Name: 北京贝尔和鼓楼
EN Address: Drum Tower Street, Beijing
CN Address: 北京市东城区什刹海北京市东城区钟楼湾临字9号 邮政编码: 100007
Nearby Hotel Pick: The Orchid Hotel
Getting There: Take the subway to Shichahai Station and head north. Bus Route: Bus No. 5, 60, 107, 124, 815, 819, 843 or subway to Drum Tower Street, and then walk southwards
Open Hours: 9:00-17:00, 16:40 stop entering
More things to do by type
More things to do by location
More things to do by nearby Subway Station