Miaoying Temple-White Dagoba Temple
Miaoying Temple is also known as White Stupa Temple. The most striking thing in the temple is the Tibetan-style white dagoba built in the Yuan Dynasty. Miaoying Temple was built in the Yuan Dynasty to the eighth year of the Yuan Dynasty (AD 1275). It was built by the Nepalese craftsman Ani Lunzhen. It was built for eight years and is the earliest and largest Tibetan pagoda in China. After the completion of the ceremony, it became the royal temple of the Yuan Dynasty. It is also the place where the Baiguan Xiyi and the Mongolian and Uighur Buddhist scriptures.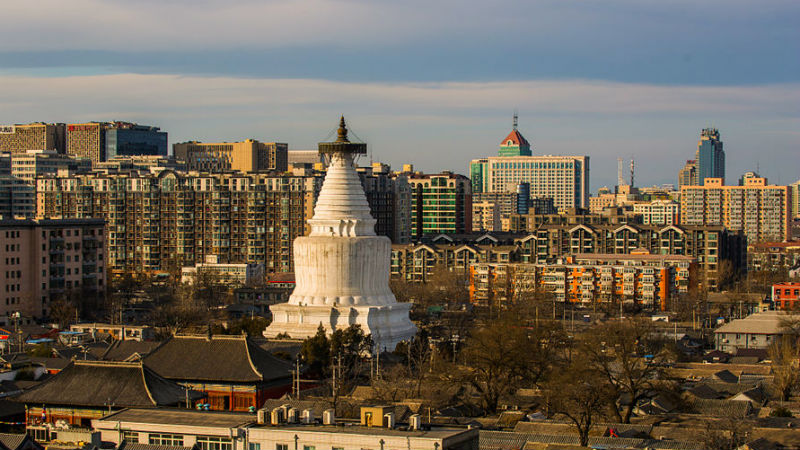 The Miaoying Temple consists of a temple and a tower courtyard. The White Dagoba and has a height of 50.9 meters. It consists of a tower base, a tower body and a tower base. The temple consists of the Shanmen, the Bell and Drum Tower, the Heavenly King Hall, the Three Buddha Hall and the Seven Buddhas Hall, and the west side of the hall and the wing. The red wall of the tower is surrounded by a separate courtyard. A corner pavilion. The White Dagoba is located in the north of the center of the courtyard. Entry is 20 RMB.
Map
Details
CN Name: 妙应寺白塔
EN Address: No.171 Fuchengmennei Street, Xicheng District, Beijing
CN Address: 北京市西城区阜成门内大街171号
Nearby Hotel Pick: Holiday Inn Beijing Downtown
Getting There: Take line 2 to Fuchengmen Station. Bus No. 13, 42, 101, 102, 103, 409, 603, 709, 812, 814, 823, 846 and 850, arrive at White Pagoda Temple

Subway: Line 2, arrive at Fuchengmen Station

Open Hours: Closed on Monday, Sunday, 9:00-16:30
More things to do by type
More things to do by location
More things to do by nearby Subway Station